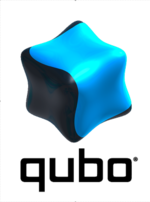 Qubo, on NBC
official website; TV IV; TV Tropes; Wikipedia
This was a Saturday morning block of children's shows that began in September 2006, replacing Discovery Kids on NBC. The Qubo block ended in June 2012, replaced by "NBC Kids" (which I've never watched). During the same period Qubo aired on NBC, it also aired on Telemundo and Ion (though I never saw it on those channels). I believe the block still airs in some form on Ion. Qubo also became a digital broadcast channel in 2007, though I don't think I've ever seen that, either.
I wanted to mention the block here because it's something that I was vaguely conscious of, for a year or so. However, I'm pretty sure the only show I ever watched on it was Jane and the Dragon (2006). So I'm afraid I couldn't tell you anything about the rest of the lineup, not even the names of any of the other shows. I'm sure I was aware of what those shows were at the time, but I really wasn't interested in any of them.
---
blocks index