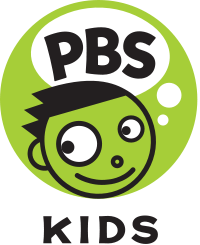 PBS Kids, on PBS
facebook; official website; TV Tropes; Wikipedia
I usually don't think of this as a programming block, per se, though that may be just because I never watched it on a regular basis. It launched in October 1993, which would be a few months after I graduated high school, so obviously the block is meant for younger people than me. But of course, that never stops me from checking things out. Um... I think the block airs pretty much every day of the week, both mornings and afternoons, but I can't really say for sure, which is another reason I don't think of it as a block; I just feel like it's on too much of the time for it to be a block, and it's probably interrupted by things that aren't meant for kids, and it's probably not consistent from station to station around the country. Still, I'll go ahead and call it a block, for the sake of this section. I'm sure lots of shows that have aired as part of the block previously aired on PBS before the block was created. I should also say that between 1993 and 1999, the block was called PTV, at least some of the time. (I find it hard to believe it wasn't also called PBS Kids during those years, but I could be mistaken.) In September 1999, a cable network called the PBS Kids Channel was launched, which was replaced in September 2005 by PBS Kids Sprout, which in November 2013 became simply Sprout. Sprout has aired PBS Kids shows as well as Nick Jr. and other acquired shows, and original programming. In July 2012, the channel began programming a block on NBC Saturday mornings called NBC Kids, which replaced Qubo.
In September 2000, a weekend morning sub-block called "PBS Kids Bookworm Bunch" launched, and ended in September 2004. A sub-block called "PBS Kids Go!" was launched in October 2004, and ended in October 2013. A sub-block called "PBS Kids Preschool Block" began in September 2006, and I guess it's ongoing. I don't think I've ever really watched any of these blocks, though I have seen a bit of the programming that's aired over the years on PBS Kids in general. Of course, I've never seen the majority of shows that have aired in the block, but I want to list a few shows I have seen (whether I actually saw them as part of the block or at some other time on PBS or elsewhere).
Sesame Street (1969-present) is of course the most iconic kids' show ever. It seems to me that when I was a little kid in the early 80s, I'd watch this on weekday afternoons, along with Mister Rogers' Neighborhood (1968-2001) and The Electric Company (1971-77). In later years I'd occasionally tune in to a bit of the newer seasons of Sesame Street, but then it aired in the morning. (It may have done so when I watched it as a kid, as well, I'm not sure.) Of course, I never watched much of it when I was older, but at least enough to notice some differences, like new characters who'd joined the show since I originally stopped watching, and the fact that everyone (not just Big Bird) knew that Snuffleupaguses (Snuffleupagi?) existed, whereas when I was a kid, everyone thought Snuffy was just Big Bird's imaginary friend. (Which always seemed ridiculous to me, even as a kid, because Snuffy was so slow that even though he would have moved out of the camera shot by the time other people showed up, there's no way he wouldn't still be in visual range from the characters' perspectives. But whatevs.) Anyway, I'm sure at least Sesame Street and Mr. Rogers have aired as part of PBS Kids. And on PBS Kids Go! there was a reboot of the "The Electric Company" (2009-11), of which I think I watched the initial mini-marathon (as Wikipedia calls it), but probably no more than that, because it seemed so completely unlike the original series, and just didn't appeal to me. Reading Rainbow (1983-2006) is another show I commonly watched in the 80s, so I don't generally associate it with this block, though I guess later seasons, which I didn't see, did air as part of the block. Square One TV (1987-92) is from before the block, but it may have aired reruns in the block.
"Anne of Green Gables: The Animated Series" (2001-02) is something I must have tried to watch an episode of, because I'm a fan of the book and the live-action miniseries, but I don't remember anything about the animated series except that I didn't like it at all, and I don't even know if I got through a single episode.
"Barney & Friends" (1992-2009) is a show that was very popular with preschoolers for awhile, and has been much mocked and parodied in popular culture over the years. I can't imagine I ever watched a whole episode, but I'm sure I saw bits and pieces while channel surfing, at some point, enough to understand why so many adults loathe the show so much.
The Berenstain Bears (2002-05) was a reboot of the 1980s cartoon that I watched as a kid. I'm not sure if I ever saw any of the new version, but I was at least aware of it.
The Big Comfy Couch (1992-2006) was a Canadian show of which I watched a very little bit (possibly I saw it on a Canadian channel before it came to PBS, possibly not).
Bill Nye the Science Guy (1993-98) is not something I ever associated with PBS, because I watched it in syndication on a different channel. But apparently it was a PBS Kids show.
Ghostwriter (1992-95) is probably the PBS Kids show I most identify specifically with the block, and the show I watched the most of as part of the block (though not as much as I saw of the shows I mentioned earlier from when I was a kid, before the block started).
"Kidsongs" (1987-98) was originally a syndicated show, but later aired on PBS. I know I saw a bit of the show while channel surfing, probably only the later PBS version, but it's not something I ever really cared about.
"Lamb Chop's Play-Along" (1992-97) is another thing I saw a bit of while surfing, but mainly what I remember about it is the closing theme, "The Song That Doesn't End." It's also something I can't say for sure if I saw on PBS or on a Canadian channel, or what.
"Liberty's Kids" (2002-03) is an animated series that I probably tried to watch a bit of at some point, but I don't remember anything about it, and I'm sure I didn't watch much of it, though I don't recall specifically disliking it, or anything. It's actually something I might not mind trying to watch again, someday, though it isn't really important to me.
"The Magic School Bus" (1994-97) is just something I was vaguely aware of. I think it was later on Fox Kids, but I don't know if I ever watched a full episode on either block.
Odd Squad (2014-present) is something I just started watching.
"The Puzzle Place" (1994-98) is something I probably saw a bit of, but had completely forgotten existed until I read the name on a list of PBS Kids shows.
Sagwa, the Chinese Siamese Cat (2001-02) is an animated series that I do specifically associate with the block, though I never watched much of it. I always wished I'd seen more of it than I did.
"Shining Time Station" (1989-93) is from before the block debuted, but maybe it reran in the block. I only ever saw bits and pieces of it, but it's something I was sort of aware of, anyway, particularly because its stars included Didi Conn, Ringo Starr, and later George Carlin.
Storytime (1994-97) is something I saw a bit of, and kind of liked.
"Teletubbies" (1997-2001) was a British show that became quite popular with preschoolers, and, like "Barney & Friends," was much loathed by older kids and adults, and mocked/parodied by pop culture. (Though it may have been appreciated ironically by some people, especially if they watched it while they were high or something.)
Where in the World is Carmen Sandiego? (1991-95) was a game show that I watched more than a bit of, and recall with some fondness.
"Wimzie's House" (1995-96) was a Canadian puppet show that later aired on PBS. I know I saw a little bit of it, but don't remember anything specific about it, and I couldn't tell you if I actually saw it on PBS or a Canadian channel.
"Wishbone" (1995-98) is something of which I saw very little, but it probably didn't suck. I don't really remember.
---
blocks index