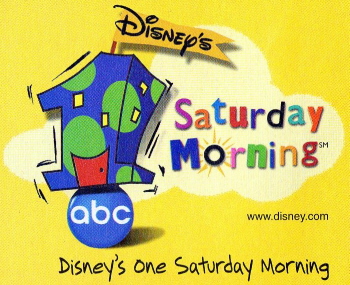 One Saturday Morning, on ABC / UPN
Disney Wiki; TV IV; TV Tropes; Wikipedia
This Saturday morning block debuted in September 1997. In September 1999, UPN began airing a block called Disney's One Too, which was based on One Saturday Morning. In September 2002, ABC changed its Saturday morning block to "ABC Kids," which was mostly repeats of Disney Channel shows, both animated and live-action (though I think at least "Fillmore!" was first run on ABC Kids; and that's about the only thing I watched on ABC Kids). The end of One Saturday Morning on ABC led to the end of One Too on UPN in August 2003. ABC Kids ended its run in August 2011, being replaced in September by "Litton's Weekend Adventure," none of which I have ever seen.
There were a lot of shows on One Saturday Morning that I never watched, but there were some I did, though I can't remember for sure if I actually watched them on ABC or UPN. This is further complicated by the fact that a lot of shows that originally aired on Disney Channel or Toon Disney later reran on ABC Kids, and a lot of shows that originally aired on ABC later reran on Disney Channel or Toon Disney, so I may be confused about which shows originated where. Some shows that I probably watched on One Saturday Morning or ABC Kids or One Too included Buzz Lightyear (2000-2001), Fillmore! (2002-2003; final five episodes debuted on Toon Disney in 2004), maybe a bit of Hercules (1998-1999), The Legend of Tarzan (2001-2003), Recess (1997-2001), a bit of Sabrina the Animated Series (1999-2000), Science Court (1997-2000), The Weekenders (1999-2001 on ABC; a third season aired on UPN in 2001 and a fourth on Toon Disney from 2002-2004; I'm not sure how much, if any, of the show I saw before Toon Disney, where I must have watched a bunch of repeats). And... that's probably it.
---
blocks index