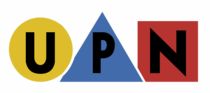 UPN (United Paramount Network; see also One Saturday Morning)
(launched in 1995; merged with The WB in 2006 to form The CW)
IMDb; TV Tropes; Wikipedia
I have a couple of memories from shortly before this network launched. One was predicting what it would be called, though I don't remember what I had read (or where I read it) that led me to make that guess. Probably I wasn't being particularly clever, but I do vaguely recall enjoying the discovery that my guess was right. My other memory is of seeing an ad for the network on the back cover of TV Guide, which used a Magic Eye image. That ad may have been how I first learned that I was right about the network's name, or... maybe I had previously learned that. I dunno. Anyway, I saved that cover for years, I'm sure, but now I can't find it anymore. I might still have it, or it might have gotten thrown out (though I can't imagine why I would have done that). In any event, when I started this page, I googled "upn magic eye" and found a scanned copy.
(Some of these shows I didn't see on this network, but saw elsewhere in reruns.)
---
Star Trek: Voyager (1/16/1995 - 5/23/2001)
Nowhere Man (8/28/1995 - 5/20/1996)
The Sentinel (3/20/1996 - 5/24/1999; I know I watched at least a bit of this, but I don't remember anything about it)
Seven Days (10/7/1998 - 5/29/2001)
Home Movies (4/26/1999 - 5/24/1999; s1e6-s4 aired on Adult Swim)
Recess (9/12/1999 - 11/5/2001; s1-3, 5 aired on ABC, s4, 6 aired on UPN)
Buzz Lightyear of Star Command (10/2/2000 - 11/29/2000; s2 aired on ABC)
Special Unit 2 (4/11/2001 - 2/13/2002)
The Legend of Tarzan (9/3/2001 - 2/5/2003)
The Weekenders (9/9/2001 - 12/2/2001; s1-2 aired on ABC, s4 on Toon Disney)
Enterprise (9/26/2001 - 5/13/2005)
Buffy the Vampire Slayer (10/2/2001 - 5/20/2003; s1-5 aired on The WB
Roswell (10/9/2001 - 5/14/2002; s1-2 aired on The WB)
The Twilight Zone (9/18/2002 - 5/21/2003; I'm not sure I saw more than one episode of this)
Haunted (9/24/2002 - 11/5/2002; I saw a bit of this, but I don't remember anything about it)
Jake 2.0 (9/10/2003 - 12/17/2003; four episodes were unaired in the U.S.)
Veronica Mars (9/22/2004 - 5/9/2006; s3 aired on The CW)
Everybody Hates Chris (9/22/2005 - 5/11/2006; s2-4 aired on The CW)

---
networks index