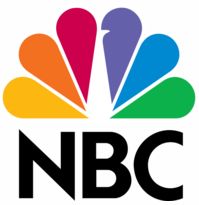 NBC (National Broadcasting Company; see also Must See TV, TNBC, Thrillogy, Discovery Kids, and Qubo)
(launched as a radio network in 1926, and as a TV network in 1939)
IMDb; official website; TV Tropes; Wikipedia
I didn't have access to NBC when I was a kid. Not until I went to college in 1995. But before then, I did see some NBC shows on my local CBS station (which was, secondarily, affiliated with both ABC and NBC). Of course, some shows I list here are from before my time anyway, so I didn't see them until much later, in syndication or on cable or satellite or whatever.
---
1950s-1970s
The Tonight Show (9/27/1954 - present; I haven't seen a lot of this, and none until the mid-90s)
Walt Disney's Wonderful World of Color (9/24/1961 - 3/23/1969)
The Scarecrow of Romney Marsh (2/9/1964 - 2/23/1964; limited series)
Rudolph the Red-Nosed Reindeer (12/6/1964; special)
Get Smart (9/18/1965 - 3/29/1969; season 5 aired on CBS; I haven't seen as much of this as I'd like)
I Dream of Jeannie (9/18/1965 - 5/26/1970)
Star Trek (9/8/1966 - 6/3/1969)
The Wonderful World of Disney (9/14/1969 - 5/13/1979)
Star Trek: The Animated Series (9/8/1973 - 10/12/1974)
Land of the Lost (9/7/1974 - 12/4/1976)
Little House on the Prairie (9/11/1974 - 3/21/1983)
Saturday Night Live (10/11/1975 - present; I haven't seen much of this outside of the mid-80s to 90s)
CHiPs (9/15/1977 - 5/1/1983)
Child of Glass (5/14/1978; TV movie)
Witch's Night Out (10/27/1978; special)
Diff'rent Strokes (11/3/1978 - 5/4/1985; moved to ABC for season 8)
B. J. and the Bear (2/10/1979 - 8/11/1981; I barely remember that I watched this when I was very young)
The Facts of Life (8/24/1979 - 5/7/1988)
Disney's Wonderful World (9/9/1979 - 8/16/1981)

1980s
The Flintstone Comedy Show (11/22/1980 - 10/24/1981)
The Ghosts of Buxley Hall (12/21/1980 - 1/4/1981; two-part TV movie)
The Smurfs (9/12/1981 - 12/2/1989)
Fame (1/7/1982 - 4/7/1983; s3-s6 aired in syndication; I barely remember watching this when I was very young, and I'm not sure if I saw it on NBC, syndication, or both)
Late Night (2/1/1982 - present; I haven't seen much of this except for the Conan O'Brien years)
Shirt Tales (9/18/1982 - 11/19/1983; I feel like I must have watched this on CBS)
Family Ties (9/22/1982 - 5/14/1989)
Knight Rider (9/26/1982 - 4/4/1986)
Cheers (9/30/1982 - 5/20/1993)
Taxi (9/30/1982 - 6/15/1983; s1-4 aired on ABC)
Remington Steele (10/1/1982 - 2/17/1987; I don't know how much of this I saw)
Voyagers! (10/3/1982 - 7/10/1983)
The A-Team (1/23/1983 - 3/8/1987)
The Kid with the 200 I.Q. (2/6/1983; TV movie)
V (5/1-2/1983; miniseries)
Alvin and the Chipmunks (9/17/1983 - 12/1/1990; I'm not sure how much of this I saw)
Night Court (1/4/1984 - 5/31/1992)
Kidd Video (9/8/1984 - 12/7/1985; I watched this on CBS)
The Snorks (9/15/1984 - 5/13/1989; I don't think I saw much of this)
Miami Vice (9/16/1984 - 1/25/1990; I don't think I saw much of this)
Highway to Heaven (9/19/1984 - 8/4/1989)
The Cosby Show (9/20/1984 - 4/30/1992)
Stingray (7/14/1985 - 5/8/1987)
The Golden Girls (9/14/1985 - 5/9/1992)
I Dream of Jeannie... Fifteen Years Later (10/20/1985; TV movie)
Matlock (3/3/1986 - 5/8/1992; s7-s9 aired on ABC; I'm not sure how much of this I've seen)
L.A. Law (9/15/1986 - 5/19/1994; I don't think I saw much of this)
ALF (9/22/1986 - 3/24/1990)
Amen (9/27/1986 - 5/11/1991; I don't think I saw much of this)
A Different World (9/24/1987 - 7/10/1993)
ALF: The Animated Series (9/26/1987 - 1/7/1989)
Dear John (10/6/1988 - 7/22/1992)
Empty Nest (10/8/1988 - 4/29/1995)
The Magical World of Disney (10/9/1988 - 8/26/1990; episodes aired sporadically after this on various networks, including NBC)
Midnight Caller (10/25/1988 - 5/17/1991; I don't think I saw much of this)
Quantum Leap (3/26/1989 - 5/5/1993)
The Jim Henson Hour (4/14/1989 - 7/30/1989)
Seinfeld (7/5/1989 - 5/14/1998)
Saved by the Bell (8/20/1989 - 5/22/1993)
Turn Back the Clock (11/20/1989; TV movie)

1990s
Carol & Company (3/31/1990 - 5/4/1991)
Down Home (4/12/1990 - 5/18/1991)
Wings (4/19/1990 - 5/21/1997)
Blossom (7/5/1990 - 5/22/1995)
The Fresh Prince of Bel-Air (9/10/1990 - 5/20/1996)
Law & Order (9/13/1990 - 5/24/2010; I haven't seen much of this. Revived 2/24/2022 - present)
The Dreamer of Oz (12/10/1990; TV movie)
A Mom for Christmas (12/17/1990; TV movie)
The 100 Lives of Black Jack Savage (3/31/1991 - 5/26/1991)
Sisters (5/11/1991 - 5/4/1996; I don't know how much of this I saw)
Nurses (9/14/1991 - 5/7/1994)
Eerie, Indiana (9/15/1991 - 4/12/1992; one more episode later aired on Disney Channel
The Torkelsons / Almost Home (9/21/1991 - 6/12/1993)
Reasonable Doubts (9/26/1991 - 4/27/1993)
I'll Fly Away (10/7/1991 - 2/5/1993; TV movie finale aired on PBS 10/11/1993)
Nightmare Cafe (1/29/1992 - 4/3/1992; I only got to see one episode)
The Powers That Be (3/7/1992 - 1/16/1993; I don't think I saw much of this)
Mann & Machine (4/5/1992 - 7/14/1992)
California Dreams (9/12/1992 - 12/14/1996)
Here and Now (9/19/1992 - 1/2/1993)
Mad About You (9/23/1992 - 5/24/1999; revived in 2019 on Spectrum Originals)
Route 66 (6/8/1993 - 7/6/1993)
The John Larroquette Show (9/2/1993 - 10/30/1996)
Frasier (9/16/1993 - 5/13/2004)
Café Americain (9/18/1993 - 5/28/1994; I'm not sure how much of this I saw)
The Mommies (9/18/1993 - 6/10/1995; I don't think I saw much of this)
Someone Like Me (3/14/1994 - 4/25/1994)
ER (9/19/1994 - 4/2/2009; I watched very little of this)
Friends (9/22/1994 - 5/6/2004)
Hope & Gloria (2/9/1995 - 6/22/1996)
NewsRadio (3/21/1995 - 5/4/1999)
Brotherly Love (9/16/1995 - 4/1/1996; s2 aired on The WB. I don't know how much of this I saw.)
Caroline in the City (9/21/1995 - 4/26/1999)
The Single Guy (9/21/1995 - 4/14/1997)
3rd Rock from the Sun (1/9/1996 - 5/22/2001)
Boston Common (3/21/1996 - 4/27/1997)
The Pretender (9/17/1996 - 5/13/2000)
Something So Right (9/17/1996 - 5/6/1997; season 2 aired on ABC; I'm not sure how much of this I saw)
Suddenly Susan (9/19/1996 - 12/26/2000; I don't think I saw much of this)
Dark Skies (9/21/1996 - 5/31/1997)
Profiler (9/21/1996 - 7/1/2000)
Mother, May I Sleep with Danger? (9/30/1996; TV movie)
Chicago Sons (1/8/1997 - 7/2/1997; I'm not sure how much of this I saw)
The Naked Truth (1/16/1997 - 5/25/1998; s1 aired on ABC)
Just Shoot Me! (3/4/1997 - 8/16/2003)
Fired Up (4/10/1997 - 2/9/1998)
The Odyssey (5/18-19/1997; miniseries)
Working (10/8/1997 - 1/25/1999)
I've Been Waiting for You (3/22/1998; TV movie)
Merlin (4/26-27/1998; miniseries)
Alice in Wonderland (2/28/1999; TV movie)
Stark Raving Mad (9/23/1999 - 7/13/2000)
Freaks and Geeks (9/25/1999 - 7/8/2000; 3 more episodes aired on Fox Family Channel, but I don't think I saw them)
The Magical Legend of the Leprechauns (11/7-8/1999; miniseries)

2000s
The Others (2/5/2000 - 6/10/2000)
The 10th Kingdom (2/27/2000 - 3/6/2000; miniseries)
God, the Devil and Bob (3/9/2000 - 3/28/2000; 9 more episodes aired on Adult Swim in 2011)
Mysterious Ways (7/24/2000 - 8/3/2001 I think; more episodes aired on PAX. I didn't see much of this.)
She Spies (7/20/2002 - 8/3/2002; 3 episodes aired on NBC, the rest in syndication)
American Dreams (9/29/2002 - 3/30/2005)
Joey (9/9/2004 - 3/7/2006)
A Christmas Carol: The Musical (11/28/2004; TV movie)
Committed (1/4/2005 - 3/15/2005)
Hercules (5/16/2005; miniseries)
The Book of Daniel (1/6/2006 - 1/20/2006; 3 more episodes never aired)
Jane and the Dragon (9/9/2006 - ?; originally aired on YTV in Canada; I'm not sure exactly when it ended on NBC)
Studio 60 on the Sunset Strip (9/18/2006 - 6/28/2007)
Heroes (9/25/2006 - 2/8/2010)
30 Rock (10/11/2006 - 1/31/2013)
Andy Barker, P.I. (3/15/2007 - 4/14/2007)
Knight Rider (2/17/2008; TV movie)
Fear Itself (6/5/2008 - 7/31/2008; 5 more episodes never aired)
A Muppets Christmas: Letters to Santa (12/17/2008; special)
Community (9/17/2009 - 4/17/2014; moved to Yahoo! Screen for season 6)
Monsters vs. Aliens: Mutant Pumpkins from Outer Space (10/28/2009; special)

2010s
Parenthood (3/2/2010 - 1/29/2015)
Undercovers (9/22/2010 - 12/29/2010; 2 more episodes never aired in the U.S.)
Scared Shrekless (10/28/2010; special)
Kung Fu Panad Holiday (11/24/2010; special)
The Cape (1/9/2011 - 2/28/2011; the final episode aired on NBC.com on 3/11/2011)
Grimm (10/28/2011 - 3/31/2017)
Bent (3/21/2012 - 4/4/2012)
Revolution (9/17/2012 - 5/21/2014)
Mockingbird Lane (10/26/2012; special)
1600 Penn (12/17/2012 - 3/28/2013)
Camp (7/10/2013 - 9/11/2013)
The Michael J. Fox Show (9/26/2013 - 1/23/2014; 7 more episodes never aired in U.S.)
Dracula (10/25/2013 - 1/24/2014)
The Sound of Music Live! (12/5/2013; TV play)
Kelly Clarkson's Cautionary Christmas Music Tale (12/11/2013; special)
Believe (3/10/2014 - 6/15/2014; 1 more episode never aired in the U.S.)
Crisis (3/16/2014 - 6/22/2014)
The Maya Rudolph Show (5/19/2014; special)
Crossbones (5/30/2014 - 8/2/2014; I only watched 2 episodes of this)
Constantine (10/24/2014 - 2/13/2015)
Peter Pan Live! (12/4/2014; TV play)
How Murray Saved Christmas (12/5/2014; special)
Elf: Buddy's Musical Christmas (12/16/2014; special)
Aquarius (5/28/2015 - 9/10/2016)
The Carmichael Show (8/26/2015 - 8/9/2017)
Heroes Reborn (9/24/2015 - 1/21/2016)
The Wiz Live! (12/3/2015; TV play)
Crowded (3/15/2016 - 5/22/2016)
Maya & Marty (5/31/2016 - 7/12/2016)
The Good Place (9/19/2016 - 1/30/2020)
Timeless (10/3/2016 - 12/20/2018)
Hairspray Live! (12/7/2016; TV play)
Emerald City (1/6/2017 - 3/3/2017)
Powerless (2/2/2017 - 4/20/2017)
Trial & Error (3/14/2017 - 8/23/2018)
Midnight, Texas (7/24/2017 - 12/28/2018)
Trolls Holiday (11/24/2017; special)
Good Girls (2/26/2018 - 7/22/2021)
Jesus Christ Superstar - Live in Concert (4/1/2018; TV play)
Reverie (5/30/2018 - 8/8/2018)
Manifest (9/24/2018 - 6/10/2021; s4 will air on Netflix)
A Legendary Christmas with John and Chrissy (11/28/2018; special)
Brooklyn Nine-Nine (1/10/2019 - 9/16/2021; s1-5 aired on FOX)
The InBetween (5/29/2019 - 8/14/2019)
Sunnyside (9/26/2019 - 10/17/2019; 7 more episodes were released online)
How to Train Your Dragon: Homecoming (12/3/2019; special)

2020s
Zoey's Extraordinary Playlist (1/7/2020 - 5/16/2021)
The Grinch Musical! (12/9/2020; TV play)
Annie Live! (12/2/2021; TV play)

---
networks index