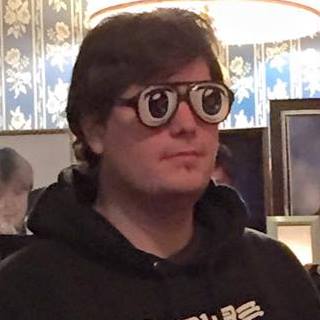 Christmas presents
I started this page in 2014. It begins with some paragraphs about the distant past, after which I was going to list at least some of the presents I receive each Christmas, starting in 2014. I continued doing that in 2015, and started to do it in 2016, but then I decided not to do that, after all. So I'm deleting the annual entries from the end of the page, but I'll keep the introductory paragraphs. Meanwhile, here's a picture of me wearing some "anime eyes glasses" I received in 2014.
Ah, two of the great joys of the holiday season: giving and receiving. Seeing a bunch of presents under the tree or in stockings was always really exciting as a kid, though I've lost some excitement about it, as an adult. (Some years, I can't help feeling like everything about Christmas has just become kind of perfunctory, but that's probably tied into larger psychological issues.) Anyway, I come from a big extended family, who are all very loving and generous, in spite of not really having a lot of money. (Though certainly there are many families who have a lot less.) Honestly, I always get a lot more than I feel I deserve. We also get presents from Santa Claus, of course, and even from our pets. Alas, I personally have never had much money, so I've never given many gifts. (Most years I give none at all, though some of my relatives may get things ostensibly from me or my sister that were actually bought by our mom.) And I've always felt terribly guilty about that, especially now that I'm an adult (which I've actually been longer than I was a kid, which is scary to think about, because at heart I'm still a kid). And it's not just a lack of money that precludes me from buying gifts, but also the feeling that I usually haven't got the slightest idea what anyone might want. And if I did know what they'd want, I'd be afraid that they already had it, or that someone else would give it to them, too. So anyway, I've always looked forward to being rich, someday... at which point I'll probably just give people cards with checks. Speaking of which, that's one of my favorite things to receive, as well.
Well, it's not like I've never given anyone presents. But that's not what this page is about. It's about what I've received. I'm afraid I don't specifically remember many of the presents I've gotten over the years. I've gotten money, as I mentioned. And things like chocolate, coffee, tea, beer, nuts, whatever. And clothes. When I was a kid I got gift certificates for like McDonalds or Burger King. As an adult I have occasionally gotten either Amazon credit or else things people have purchased for me off my Amazon wish list. Probably the most memorable gift I ever received, as a kid, was the Cobra Terror Drome, which was super awesome and then... I tried to assemble it and found there were maybe a few little pieces missing, so it got returned to the store, and I kind of thought it would be replaced or something, but... it wasn't. So I never actually got to play with that, and I don't recall getting anything to make up for it (but it's possible I did). Either way, that couldn't have been my only gift that Christmas, so I survived. And over the years I'm sure I received lots of other cool toys (though probably none quite as cool as the Terror Drome). But I have a short memory, so I'm never quite sure whether things I've had were given to me for Christmas or my birthday or some other reason at any time of year, or whether in some rare instances I've bought things for myself. And even if I know something was a gift, I generally don't remember very long who gave it to me, which is something else I feel guilty about. Anyway, I wish I could list every Christmas present I've ever received, but I can at least start doing that from now on. (Edit, Jan. 2017: I decided not to do that.)
So... for several years, my sister and I had a tradition called PCE, or "Pre-Christmas Exchange," where we'd give each other some little gift sometime before Christmas. I don't remember exactly when that was, but presumably, not too long before Christmas. Like, late December, but before Christmas Eve. And I don't recall how many years (or which years) we did that, but it's been awhile since we did. (Well, every now and then the tradition might re-emerge, but most years it doesn't.) A larger family tradition for many years was for the whole extended family to exchange names (generally on or around Thanksgiving) for a "cousin exchange" of small gifts to be given on Christmas Eve. We'd draw the names from a bowl or whatever, so it's like Secret Santa, though my family was doing this before I ever heard that term. (Also it's not quite as anonymous, in my family, at least not once the gift is actually given.) But we haven't really kept up with the tradition, in the last few years. And... I guess that's all I can say.
---
tek's Winter Holidays page