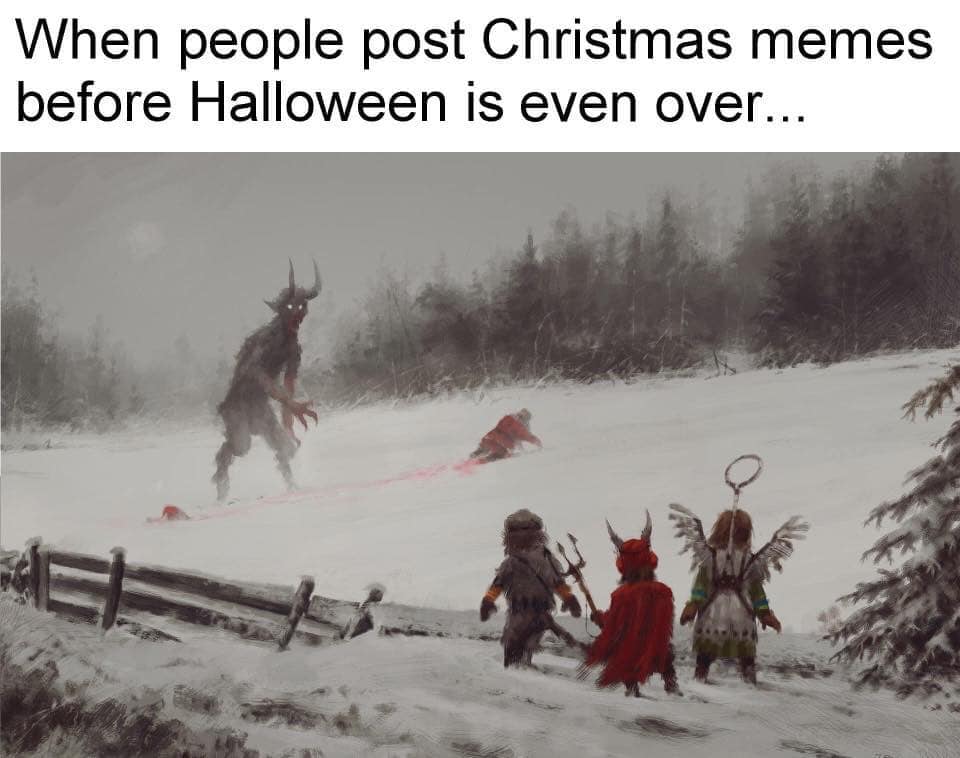 Krampus in Pop Culture
So... when did I first hear about St. Nick's evil counterpart, Krampus? I actually don't recall, but in the last few years, the mythological creature from European folklore has become increasingly common in pop culture. I've seen several examples of this, and I've probably forgotten some that I've seen. I'm sure there have also been lots of appearances or mentions of Krampus that I'm not even aware of. And there are things I'd like to see eventually, and more things about Krampus will continue to be made. For now, I don't really have anything specific to say about him, but it's nice for people who get tired of the unrelenting jolliness of the Christmas season to have some traditional holiday horror to take as an antidote. This can be done during Krampus's very own holiday, Krampusnacht, which falls on the night of December 5. But really, there's nothing wrong with indulging in a little Krampus-love anytime in December.
Here are the few pop culture nods I'm aware of:
The Venture Bros.
2004: Krampus made an appearance in the episode A Very Venture Christmas. I probably saw this, but I don't really remember. Either way, it's something I'd like to see (again) someday. I suppose it's possible that this was the first time I ever heard of Krampus, but I suspect I'd probably been at least vaguely aware of him before this. Maybe.
Supernatural
2007: Krampus was at least mentioned in the episode A Very Supernatural Christmas. I must have seen it, but I don't really remember it. And I don't know if Krampus was actually in the episode or not.
The Colbert Report
2009: Krampus was mentioned and made an appearance in a segment called Blitzkrieg on Grinchitude. I don't recall whether I saw it at that time, or if the first I'm hearing of it was when I was working on this page in 2014.
A Krampus Carol
2011: This is a stop-motion short film written, apparently, by celebrity chef Anthony Bourdain. I didn't see it until 2019 (in March). It's okay, but not something I liked enough to bother writing a review about.
Krampus, the Yule Lord
2012: I didn't learn of this book's existence until 2016. I might like to read it someday, I guess.
Suburgatory
2012: The show's Christmas episode was titled Krampus. I don't recall in what capacity he may have been mentioned within the episode, or much of anything about the plot at all. I don't think he was important to the episode, but however prominent the mention may have been, it's cool that he was referenced at all.
Krampus: The Christmas Devil
2013: An independent film that I haven't seen, and I'm not sure whether I want to. But maybe someday I will.
Grimm
2013: Krampus's most prominent appearance in American pop culture up til now was probably the Grimm episode Twelve Days of Krampus.
American Dad!
2013: Some version of Krampus appeared in the episode Minstrel Krampus. I'm pretty sure I didn't see it, as I rarely watch this show.
Krampus' First Christmas
2013: This is a video of Nika Harper reading a storybook she wrote. It's pretty cool.
Season's Greetings from Krampus
2013: This is brief teaser for a special called "A Krampus Christmas," brought to you by the studio behind such nifty stop-motion animation as Graveyard Jamboree. I have no idea when the actual special might come out, but I've signed up for updates...
Krampus!
2013-14: A five issue series of comic books.
Don't Cuddle the Krampus
2015: A Krampus toy that the folks at Warpo started a Kickstarter to fund the production of. I'd totally contribute if I had any money. Unfortunately, it didn't pan out.
A Christmas Horror Story
2015: There are actually two or three Krampuses in this movie, in a neat little twist on the legend. (But there's also a ghost story and a changeling story and a story about zombie elves. Because it's an anthology movie.)
Krampus: The Reckoning
2015: This is so obscure that I didn't even learn of its existence until 2016, and that was just by accident, because it was made by the same company (FunHouse Features) that made a 2016 Krampus film, which I had heard of (though as far as I can tell, the films aren't related). I don't expect to ever see either of them.
Krampus Is Here
2015: This is a short film made by director John Ross, in anticipation of Mike Dougherty's Krampus movie (the next item on this list), but I didn't see it until August 2017. Anyway, I thought it was reasonably fun.
Krampus
2015: I didn't get to see this when it was in theaters, but I got the DVD to watch on Krampusnacht, 2016.
Krampus: The Devil Returns
2016: This is a sequel to the 2013 film "Krampus: The Christmas Devil."
Krampus Unleashed
2016: I don't expect to ever see this. (It's the one I mentioned earlier made by the same company as "Krampus: The Reckoning.")
American Housewife
2016: The show's Christmas episode was titled Krampus Katie. It wasn't really about Krampus, but Katie was upset that her daughter, Anna-Kat, thought she was too much like Krampus (and even showed her mom Krampus in a picture book), so Katie spent the episode trying to act nicer.
The Devil of Christmas
2016: This is an episode of the British anthology series "Inside No. 9", which I've never seen, but would like to. Skimming Wikipedia's page, it seems like it's not really about Krampus, but more the story of Krampus. Or something.
Bob's Burgers
2017: This year's Christmas episode, The Bleakening, involved a mythical creature called "the Bleaken," which sounded an awful lot like Krampus. So I have no idea why they didn't just call it Krampus, except that I guess "Bleaken" just sounds more Bob's Burgers-y. *shrug*
Bad Krampus
2018: A short film on Crypt TV, which I didn't find interesting enough to write an actual review of. But I might as well mention it here, I guess.
Who is Krampus the Christmas Monster?
2019: This is an episode of a webseries geared towards kids, called "Colossal Mysteries." I only watch occasional episodes that are about subjects of interest to me, like this one.
Krampus
2021: A song by British band The Lathums, which I think is sung from Krampus's perspective. Maybe.
---
Krampus links

Articles:
About.com: What is the Krampus?
The Anti-Claus is Coming to Town! A Brief History of Krampus
BuzzFeed

Dust Off the Bible: Keeping The Krampus in Christmas
Fanboy Reporter: Top 5 Appearances of Krampus in Pop Culture
Geek & Sundry Mental Floss: 17 Devilishly Awesome Vintage Krampus Cards
National Geographic: Who is Krampus? Explaining the Horrific Christmas Devil
Smithsonian: The Origin of Krampus, Europe's Evil Twist on Santa
Upworthy: 10 fricking awesome photos from a gigantic Krampus parade.

Festivals:
Bloomington Krampus
Krampus Los Angeles
Krampus Night - Detroit
Krampuslauf Philadelphia
Krampusnacht DC
NoDa Krampus Krawl (Charlotte, NC)
Orlando Krampusnacht

Merchandise:
Funko
Spirit Halloween: Adult Krampus the Christmas Demon Costume

Reference:
Everything2
Krampus.com
Krampus: Tales of the Christmas Devil
TV Tropes
Wikipedia

---
tek's Winter Holidays page
Pop Culture Index