Christmas season 2019
July 25
Watched Twice Upon a Time on Amazon. And drank some beers from a Sierra Nevada mixpack.
November 15
Yesterday I watched a new Christmasy episode of "DC Kids Show," and added it to my Christmas episodes page. It was then that I discovered I hadn't put any Christmas episodes for that show on that page before, even though there were a couple that I mentioned in my 2017 journal, and one that was an actual special (not just a special episode) from 2018. So I added all those to the page today.
November 25
I started putting together a page for Holiday memes and comics.
November 28
Well, it's Thanksgiving. And I added a bunch of new ads to my Christmas commercials playlist.
December 2
Yesterday was the first Sunday of Advent, and I added a Christmas song to The Music Exchange: John Legend and Kelly Clarkson's new version of "Baby It's Cold Outside." And... I already had another holiday song in waiting to post in the Exchange, but today I have listened to a bunch more new songs, many of which I've put on my list of songs I might want to add to the Music Exchange and/or my Christmas songs playlist on YouTube. I didn't manage to get through the whole list of songs I found on YouTube's own music channel, though, because eventually I was just getting sick of it all. Too much Christmas music for one sitting. So I'll have to continue another time.
December 5
For Krampusnacht, I watched Black Christmas.
December 6
We put up a tree.
December 8
Watched a holiday episode of Life Hacks for Kids. And a "Last Week Tonight" web exclusive about SantaCon.
December 9
Watched the first two episodes of "The Moodys," a 6-episode miniseries. This is Monday, and these episodes aired last Wednesday, but I'm behind on all my DVR'd shows. The next two episodes aired tonight and the final two will air tomorrow, I guess, but it's impossible to say when I'll get around to watching any of these four episodes. But so far I guess I kind of like the show, which is set over the week leading up to Christmas.
December 10
Watched last week's episode of "Prodigal Son." It was set during Christmas, but wasn't Christmasy enough for me to add it to my Christmas episodes page.
December 11
I watched last night's Christmas/Solstice episode of "Mixed-ish" and Christmas episode of "Black-ish," on the DVR.
December 12
I started reading "The Cat Who Came for Christmas."
December 13
I watched the season 1 Christmas episode of "Sabrina, the Teenage Witch" on Amazon, from 1996. And afterwards, I discovered that the date it originally aired, just like today, was Friday the 13th. Bit of a neat coincidence.
December 14
I watched Wednesday's Christmas episodes of "Modern Family" and "Single Parents." I also broke up my list of Christmas episodes from two pages to four pages. (I should probably go through all my old holiday journals and change any links that might need changing, but that's not something I feel up to right now. Maybe someday, though.) Later, I watched last night's Christmas episodes of "American Houswewife" and "Fresh off the Boat." Actually, our DVR had some trouble and missed the opening scenes of FOTB (both before and after the credits), everything before the first commercial break. So after watching what was on the DVR, I watched the opening scenes on Hulu. Throughout the episode, Jessica imagined scenes of a real life version of "Jessica Town," the Victorian Christmas display she puts up every year. All those imagine spots were fun, but the best was the first one, which I watched online.
December 15
I guess last Sunday I didn't mention that I posted "Loneliest Time of Year" by Mabel to the Music Exchange. Today I posted "Christmas in New York" by Lea Michele, and added both those songs to my Christmas songs playlist on YouTube. I have more songs I'll be adding to it before Christmas, but I think that's enough for today. Also today I watched Thursday's episode of "Evil," which was set at Christmastime. It involved a viral video that can drive you insane. Later, I watched another new Christmas episode of Life Hacks for Kids, as well as an episode of a webseries I very rarely watch called "Colossal Mysteries." This one was called Who is Krampus the Christmas Monster?
December 17
Last night I started watching a TV movie on Hulu, but didn't get to finish it. Hopefully I'll do that soon. Meanwhile, tonight (Tuesday) I watched Sunday's Christmas episodes of "Bless the Harts" and "Bob's Burgers."
December 18
I finished watching that TV movie, Tiny Christmas. Also added a YouTube clip of Samantha Bee to my "A Christmas Carol" parodies page.
December 19
Watched a sort of Christmas episode of Christy's Kitchen Throwback. Also a DC Kids Show Holiday Special featuring the voice cast of Cartoon Network's "DC Super Hero Girls." That was fun. And now I'm gonna have some shiraz.
December 20
Added a few things to my Holiday Memes page. Also I watched Count Spookula's Christmas Spooktacular, which I guess I found mildly amusing, but not enough to add it to my "Witching Season Films" review page.
December 21
I added 11 more ads to my Christmas commercials playlist. Later I watched The Christmas Dragon on Amazon; it was not at all what I expected. And it wasn't very good, but it was okay.
December 22
This morning I added a few videos to my Christmas songs playlist on YouTube. In the afternoon, I went out to eat at the Jade Palace with a bunch of relatives. This evening I started watching a Freeform Christmas TV movie on Hulu, but the internet got kind of erratic, so I stopped, and hope to finish watching it tomorrow. Later in the night (technically Dec 23), I watched a few Hearth's Warming Eve-themed My Little Pony webisodes from last year, which I hadn't seen before.
December 23
Um... I baked two loaves of banana bread today, which I'll bring to a potluck birthday party for my uncle Wayne, tomorrow. Also tonight I finished watching the TV movie I started last night, Ghosting: The Spirit of Christmas, which I thought was really good. Then I watched the first part of FX's "A Christmas Carol", on Hulu. I intend to watch part two tomorrow and part three on Christmas, but it's impossible to know if events will unfold according to plan. Meanwhile, I enjoyed part one. Very unique adaptation of the story.
December 24
I watched a short film on YouTube, What's to Come: Christmas Tradition. Actually, it seems like this is the first episode of a Black Mirror-style webseries. Anyway... I'm sure I'll have more things to say about the later later on. We're going to Grandma's house soon for Wayne's birthday party.
...At the farm, waiting for the party to start, I was browsing facebook and saw a post about a Nerdist Laser Yule Log (released in 2013, but this is the first I heard of it). So I added that to my list of videos on my Winter Holidays main page, and I found a site that reviewed a bunch of different Yule log videos (most on YouTube, others I couldn't watch because they're on Disney+ and Netflix). I added links to a few of those on my page, as well as a link to the review site. Also checked the video links I already had on that page, and one had been deleted from YouTube, but I found another copy of it on facebook, so I changed that link. And... I got a couple of Christmas cards with some cash in them.
Back at home, I finally got around to watching The Kacey Musgraves Christmas Show, a special that was released on Amazon Video on November 29. It was fun. Then I watched a Daily Show clip, Everything is Stupid - Holiday Edition. Also I added several songs to my Christmas songs playlist and one more commercial to my Christmas commercials playlist. And now it's 1:30AM, and sadly, I have failed to watch the second part of "A Christmas Carol." And I really don't want to start it now, I just want to go to sleep.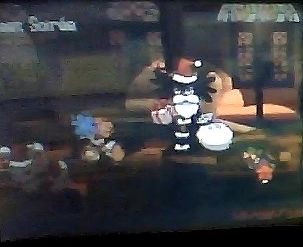 December 25
I guess the first Christmasy thing I've done today is in Pokemon Black, I entered my Gothitelle in a musical and dressed her up like Santa Claus. That's something I've been planning on for awhile now (though really I'd rather do it with Mienshao, just because that pokemon looks more Chinese, and it would remind me of the Christmas episode from season 2 of "Fresh off the Boat." But I didn't happen to have a Mienshao in this playthrough of the game, so whatevs. After the performance, someone from the audience gave me a new prop that I might use in future musicals, if I ever enter any. Which I doubt. ...Oh, and I haven't mentioned every single Christmas song I've posted in the Music Exchange this month, but today's is Mariah Carey's new video for All I Want for Christmas Is You, which is pretty cool and cute.
We're at the farm again. I watched a clip from "The Late Show," an 8-minute animated Christmas special called Once Upon Impeachment. It was really funny. After that it was time for dinner, which was all good. Of course I finished before anyone else, so I went in the other room and listened to some solstice carols (Cthulhu style). That was fun. Then we all opened presents. I gots some cash, a tiny box engraved with dala horses, a Swedish flag moose tshirt, a box of chocolates, a calendar, a Legend of Korra "Avatar's Chronicle," a little heart ornament, a DVD of "Santa Claus Conquers the Martians," and an extra secret gift. Once everyone was done with presents, we had Christmas pud for dessert, as we do every Christmas. Brenda and Alan make that. This year I brought some pumpkin ice cream for people to try. And then... a bunch of the fam were going to play some game I know nothing about, and they would have liked me to stay and play I guess, but Mom and I just wanted to come home. (Beth had already taken Dad home.)
And after we got home, I gave a few little gifts to Mom, Beth, and Dad, and dad gave gifts to us. There are other presents that will be exchanged here at home on another day, but that's all for now. So, I'm gonna sit in bed and try to watch something or other either online or on DVD, whilst eating some party mix that Beth made and drinking some of my secret present. ...Okay, I watched the DVD I got as a present. It was the most redonkulous thing ever. I liked it, and I'll hopefully write up a review tomorrow. ...Then I watched the season 2 Christmas episode of Sabrina the Teenage Witch. And then I watched part 2 of "A Christmas Carol" and started to watch part 3, but then I decided it would be a good idea for me to go to sleep and finish part 3 later.
December 26
I wrote my review of Santa Claus Conquers the Martians. Later I was hoping to watch one of the many Christmas movies available to me either on Hulu or Amazon, but my internet was kind of slow, so I decided to watch a DVD. I picked The Conjuring 2, and it turned out to be set close to Christmas, a fact of which I was unaware. But that was kind of a neat coincidence, I thought.
December 27
Mom and Dad and Beth and I opened some more presents at home. We did it later than they wanted because I was immobilized by depression for awhile. But anyway, I got some things I'd picked out myself, a coule of shirts, a Frozen II Pez set. And I got some other stuff, like coffee and chocolate and pistachios. So that's nice.
December 28
I went to see The Rise of Skywalker with Josh and Matt and Rachel. Seeing a Star Wars movie in a theater, sometime in December, especially with that branch of the family, feels kind of like a Christmas tradition.
December 29
Tonight I started watching last year's Christmas episode of Into the Dark, "Pooka!" but Hulu stopped working at one point, so I played some Pokemon Sapphire and then it got late and I got too tired to bother trying to continue with Pooka, so I'll have to finish that another time. Honestly, I'm really annoyed at how far behind I am on Christmas things I wanted to watch, especially things actually started... I haven't finished "The Moodys" yet, or "A Christmas Carol," and now this. And there were a bunch of movies I meant to watch online that I haven't even started. Most of them I guess I just won't get to this year. But there's at least one I want to try to watch. Meanwhile, there are always things I'm behind on, seasonal or otherwise. Sigh.
December 31
I watched new year's episodes of Christy's Kitchen Throwback and SciShow Psych, and put them on a page. Also I finished watching Pooka! and wrote my review.
January 14
There's still so much I haven't done or finished doing, that I still totally intend to do. Maybe. But today Mom gave me a 12 Days of Christmas Pez set, which I suppose must have been discounted.
January 17
Yesterday, while watching something on the DVR from a couple weeks ago, I saw a Crest Christmas commercial I hadn't seen yet. Today I added it to my playlist of Christmas commercials. Of course, I also discovered some of the ads I'd previously put on the playlist had disappeared, but I'm not in the mood to look for new copies right now. I'm barely in the mood to do anything.
January 18
We took down the tree.
---
2020
tek's Winter Holidays page