St. Patrick's Day 2016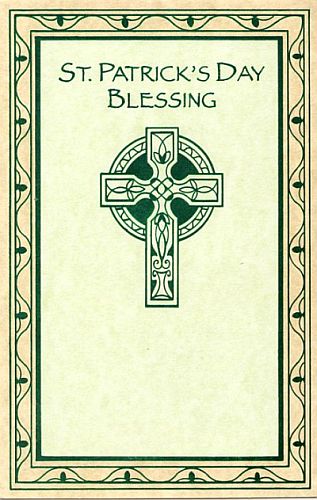 March 11
Sometime in the past couple of weeks, Dad bought me a St. Patrick's Day hat. (I'm thinking I'll make Jabba wear it.) And today, my sister gave me a couple of things: a leprechaun garden gnome, and a black plastic cauldron with green bead necklaces and gold coins inside. I was going to Walmart today, and she wanted to give me these things early so that I wouldn't buy them for myself, or so that I could return them if I didn't like them. I decided to keep them (though I'm sure I wouldn't have bought them). Anyway... before I went to Walmart (with Mom and Dad), Mom and I stopped at McDonalds and I got a shamrock shake. And later, I looked for a certain DVD I wanted to watch on St. Patrick's Day, but I couldn't find it anywhere I looked. But I did get some Guinness Blonde American Lager, which I've been wanting to try for awhile. So I'll drink that on St. Pat's. (It might be American, but it's still Guinness.)
March 17
The DVD I wanted to get... I'm not even going to say what it was, but I was thinking of ordering it online the other day. Then I decided not to, because it would be really annoying if it didn't come until like a day after St. Pat's, or something. So I'll watch a non-St. Patricky DVD I already had. But that's not til later. Meanwhile, I should mention that I had a few of the Guinness American lagers a couple of nights ago. They're nowhere near as good as regular Guinness, but still pretty good. And yesterday, I bought some Ryan's Irish cream to drink tonight. Also today I have done some work on my St. Patrick's pages. I reorganized the drinks page (which is now also for foods, though not many) and the music page. And I started a cartoons page, onto which I put a few images I already had in some of my annual journal pages, plus I added a few new images. Also, I made some Irish soda bread. It has just regular milk instead of buttermilk, which I'd normally used. It turned out alright. (We ate it with the beef casserole and potatoes and carrots and green beans Mom made for supper, which was all good.) Also, Mom gave me a card (which you can see to the right) with a check in it for $20. And my sister took a picture of the things I mentioned that she'd given me the other day, along with the Jabba the Hutt that I got last year for Halloween, who is currently wearing the St. Patrick's Day hat Dad gave me a few weeks ago. (Jabba also made an appearance at Christmas.)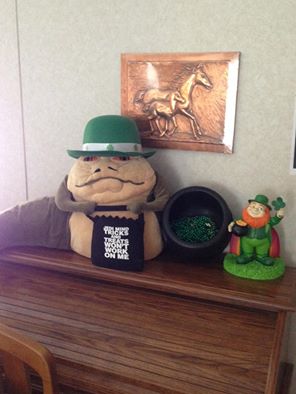 Later: Actually, it's now technically the 18th, but... whatever. I still think of it as the 17th. So, the movie I watched tonight while drinking my Irish cream was Forbidden Planet. That was fun. I don't feel ready for sleep yet, so I think I'll have a bottle of beer. Not sure what I'll do while drinking that, but I'll think of something....
March 18
There was a banshee on tonight's episode of Sleepy Hollow. It wasn't the main problem, but... you know, Irish mythology, seems like an apt time for it.
March 20
It's Sunday, and Mom made corned beef & cabbage, with carrots and potatoes and onions. As usual, on the closest Sunday to St. Patrick's Day.
March 23
Okay, this entry isn't really about today. It's more about this month. On March 2, The Real O'Neals premiered. It seemed like an appropriate month, since it's about an Irish Catholic family. And on March 8, St. Patrick's Day played a part in the episode, but somehow it didn't occur to me to mention that here. (I mean, I hadn't even started this page yet, but that's the kind of thing I could have made my first entry.) The episode was sort of more about Lent, but Jimmy was making a float for the St. Patrick's parade, and there was this whole thing about how Shannon usually dresses as a leprechaun for the parade. Anyway... I finally got around to starting a review of the show today, because while watching last night's episode (which was about spring, kind of), it occurred to me to mention the show here.
---
2017
tek's St. Patrick's Day page