St. Patrick's Day 2015
March 8
I should say that probably a few weeks ago, Dad bought me some St. Patricky things from the dollar store, a plastic mug and a couple of hats. And yesterday, my sister bought me a couple of boxes of Lucky Charms. One is chocolate and one is regular, but they're both "St. Paddy's Day Edition," which means all the marshmallows are clovers and pots of gold. And there's a bunch of random stuff on the boxes that's supposed to be fun St. Patrick-themed stuff like jokes and trivia or whatever. Anyway, I had a bowl of that this morning.
March 13
Mom bought me some Guinness today. Oh, and btw, it's Friday the 13th. Which is crazy, because we just had one of those last month, the day before Valentine's Day. And now here it is again, a few days before St. Patrick's Day. So... Imma have a few bottles of Guinness and watch a horror movie. (I decided to go with Demon Knight.)
March 15
It's the closest Sunday to St. Patrick's Day, so as usual, Mom's making corned beef & cabbage for dinner. Oh, also I've been meaning to mention that I've been doing St. Patricky stuff on FarmVille for a few weeks now. There was one older St. Patrick's Day crop I finally mastered, and a new one I also mastered. And I've been growing crops to make these green beer drinks to use to acquire St. Patrick's themed animals and stuff. Anyway, Grandma and Uncle Alan came to dinner, and Grandma gave me a card with $10 in it. I scanned the pics from the front and back of the card; inside it says "On St. Patrick's Day, everyone is Irish."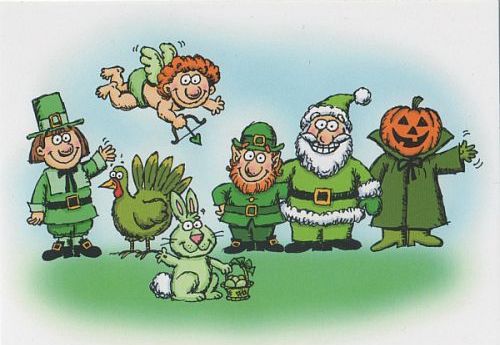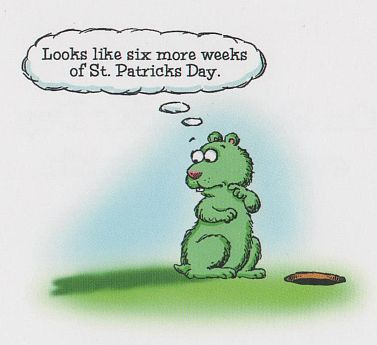 March 17
Well, this is the day. I'm wearing my Ireland t-shirt. I had Lucky Charms for breakfast. Um... I watched this video of Muppets singing Danny Boy, which George Takei posted a link to on facebook. And um, someone else posted this cartoon.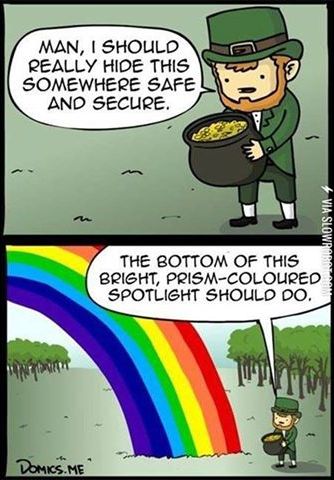 And I drank some more Guinness while watching Bordello of Blood (to finish off the double feature DVD that I started on Friday the 13th). Then I watched the season premiere of Community. At one point Chang mentioned a leprechaun, just in passing. It wasn't in the context of St. Patrick's Day, but still....
June 17
Well, it is now exactly three months since St. Patrick's Day, and I finally finished the box of chocolate Lucky Charms. It didn't take me long at all to get through the regular stuff, but I really was not fond of the chocolate variety, so that took a really long time, and I'm glad to finally be rid of it. Now I can open the box of Frozen cereal my sister bought me a few weeks ago (after I mentioned on facebook that I'd seen it in a store, but didn't buy it). I'm sure that'll be good....
---
2016
tek's St. Patrick's Day page