March 18
So, it's 1:39am. I'm home from work now. Of course I'm too exhausted to do any writing, nor can I watch TV. Sigh. But let me recount my day. It hasn't been all bad. Um... First of all, I walked to McDonalds, where I got a chipotle angus burger, which was good. But they were out of Shamrock Shakes, of course. And then I went to Hannaford, where I actually found a pre-baked soda bread, so that was cool. Then I caught the bus, did some reading (currently on "The Brothers Karamazov"). Then went to Edge Video in Brewer. I'd been to the one in downtown Bangor yesterday, got some used DVDs there because they were 70% off (and they're fairly inexpensive to start with). And I wanted to check the Brewer store for other DVDs today. Also 70% off. So I got several. Then went to McDonalds, and this one did have a Shamrock Shake. It even had whipped cream and a cherry, which I don't remember ever getting before. That was nice. Drank it as I continued walking to work. Oh, and I was wearing some St. Pat's bling, a shamrock necklace I'd gotten last year I think, and a shamrock bopper headband thing which I think Mom gave me a few years ago, which I hadn't used til now.
Work itself was pretty suck. More than usual. Really long and hard and annoying, with a few exceptions. As usual, seeing friends is always nice. Not really sure what else to say, oh, except that I shared my soda bread with some people. Some liked it, one hated it. I liked it though. And after I clocked out I checked my phone and discovered what I think was a leprechaun mooning me. Sent by my roommate James. And then... I waited and waited to be able to go home. I cannot convey to you how much I resent not being able to afford a car. I do appreciate getting rides from friends, but sometimes I just can't bear waiting so long, so finally I just left. I started walking, planning to go to the ATM to get cash and call a cab. But before I got there, Aimee called, having left some time after I did, and she gave me a ride. So that was nice. But I was still depressed about life and whatnot. But now I'm home, having a Sam Adams Irish Red. Typing this. Oh look, the beer is finished. Time to limp downstairs to the fridge for another. I hope I'm not forgetting to say anything....
Okay, now it's 2:13pm. I actually did watch one thing on the DVR last night, then had a reasonable night's sleep (though one night's sleep is not enough to recover from a night of work). Watched some more DVR this morning, then went back to bed for about 2 and a half hours, though I didn't get back to sleep. The rest probably helped a bit, but I was still in a bad mood and my arthritis was killing me. So not looking forward to work. But finally I got up, showered, checked the mail. My federal tax refund came today, and so did a St. Patrick's Day card from Mom. Plus it's fairly warm out in spite of a breeze. So maybe life will be okay. I could really use some food and an energy drink, though.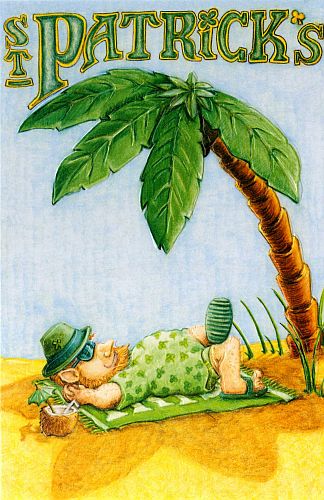 ---