March 18
So, here's what I did yesterday. I had a cup of coffee with Bailey's. It was good. The remainder of the bottle, I drank straight. That was better. Was gonna watch "The Commitments" before work, but it was such a beautiful day, I went out instead. At the comic shop, I picked up volume one of the Twilight graphic novel. (I haven't, at this point, read any of the actual books nor seen the movies.) Went to Pickering Square and sat on a bench and read the whole GN. It was decent. Then went to work, though I had a good bit of time before my shift started.
It was a decent night. I heard some coworkers complain about it being too busy, but it didn't seem very busy to me, compared to some of the insanely busy nights I've had to work in recent weeks. So I was happy enough... until I had a little trip that involved broken dishes and cuts on my fingers, with plenty of blood, plus a bump on my leg. That was not fun. But it was near enough the end of the night, and I finished up my work. My friend Meghan took a picture of the two of us, after work. If she gets that uploaded, maybe I'll put it here. Meanwhile, the other day when I was starting this year's journal, I took a pic of myself in my Guinness cap, with my Tinker Bell throw, which I decided not to include here, but now I think I will.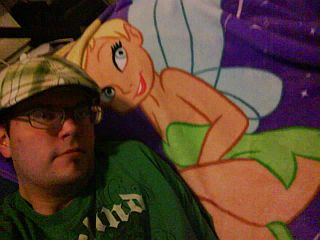 What else? I had thought that after work maybe I'd watch the Commitments, but I do hate starting movies so late (it would've been after 1am that I started, since I didn't get out of work til midnight). Instead, I watched some things on the DVR. Nothing St. Pat's related, though. Oh, I did want to mention that on my way to work, I was listening to some mp3s, one of which was "Boom Boom Pow," and when I heard the line about "stepping on leprechauns" I thought, that was appropriate. I had totally forgotten that line. Heh. But anyway. After work. DVR. Finished the Bailey's, and had a few cans of Guinness. Then bed.
I guess that's all I can think of. I'm in pain today. Kind of don't want to work tonight, but I don't want to call off, either. Kind of want to watch The Commitments, but I have other things to do, too. So I dunno. Meh. Yesterday was fairly awesome (as far as my days go, which admittedly tend to be less awesome than most people's). Aside from the accident at work. That wasn't enough to spoil my holiday, but it might be enough to spoil the next few days for me....
Later: Okay, it's after work now. I should say that just before I left for work, I checked the mail, and there was something for me from Mom. Didn't have time to open it, but I figured it was a St. Pat's card with a check, as usual. Checked it after work, and of course, that's what it was. So, that's nice. And work wasn't as bad as I feared, either, though the next two nights should be the really hard ones....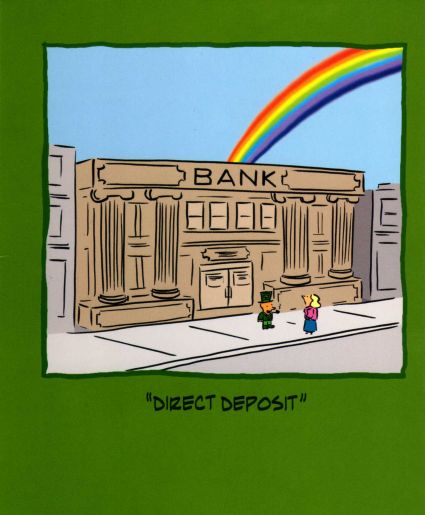 March 22

Just wanted to mention, I finally got around to watching "The Commitments." Here's my review.

March 28

Today at walmart I bought this plastic bead necklace with a couple of small clovers on it and one big clover that lights up. It was on a rack of St. Pat's stuff that was discounted to 50 cents each. Fun. Oh, also the other day Meghan uploaded that pic I mentioned before, so here it is: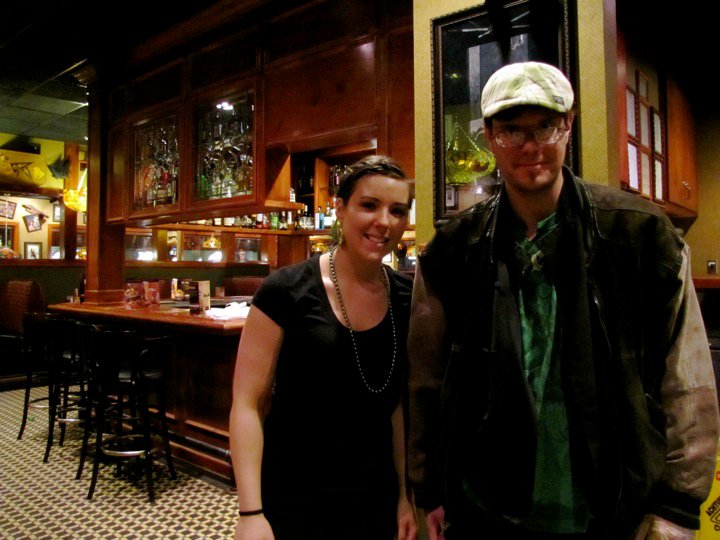 ---
2011
tek's St. Patrick's Day page