Dave's Birthday 2018
September 13
Got a birthday card in the mail.
September 21
Well here it is, the actual day. I am now 43. I had hoped to finish all five books in the Hichhiker's trilogy by now, but alas, I am only on book 4, So Long, and Thanks for All the Fish. I expect to finish it today (Friday), and hopefully write up my review this weekend. Also I should mention that last year, I ate a "birthday carrot" out of my feeble little garden. I know that's not actually a thing, but I decided to make it one. This year, we had a bigger garden, which includes carrots. I've already eaten a few of them this summer, but I was definitely planning on eating one today. Maybe I still will, but... it's rainy out. We'll see.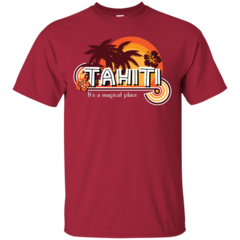 Also today, I got a birthday card from my sister, which had $10 in it (which the card says is from our cats). And I got a card from Dad, with more money in it. And a card from Mom, also with money in it. She also gave me a bag of coffee and some snacky things. And I got an Amazon gift card from Aunt Nancy (and her family). I had actually posted on facebook awhile back that I'd rather not get any Amazon gift cards, because I don't like supporting Jeff Bezos (at least any more than I do by subscribing to Amazon Video and buying the occasional mp3). Still, I appreciate the card anyway, and I'm sure I'll enjoy ordering some things from the site. Also, a t-shirt I ordered recently from Pop-Up Tee came in the mail today, which I decided must be a birthday miracle, because the online tracking said it was expected to arrive tomorrow. So, I wore that today. I have a little picture of it... you can make out the word "Tahiti" easily enough, but you probably can't read the smaller print, "It's a magical place". (This is, obviously, a reference to Agents of SHIELD.) Later, Mom and I went in town and had lunch at the Par & Grill. I had an "Uncle Sam" burger, whatever that means. It was good, anyway. Then... well, I deposited some of my birthday money in the bank, and also I did some shopping. A couple of the things I bought, I'll mention in my Halloween journal. Aside from them... let's see, I bought some gel insoles, and a mixpack of Sam Adams cans (Sam '76, Red Lager, and Dunkelweizen), and a bottle of aloe juice with mangosteen and mango, and a piece of tiramisu, and... maybe that's everything. Anyway, it's been a decent day so far. Maybe I'll have more to say later today. But as for a party, that probably will happen next weekend....
Later: Alright, I did it. I read some more of the book. Then I braved the wind and rain (of which there wasn't really that much), went out to the garden, picked and ate a birthday carrot. Then I came back in, started my laundry, and finished reading the book.
September 22
This morning I tried the coffee Mom gave me. (Dunkin Donuts caramel coffee cake flavor.) It was pretty good.
September 29
Today in the mail I got a birthday card with a check.
September 30
Today we had a birthday party for me and my cousin Janice. I got more bags of coffee and a chocolate bar from Mom. And I got cards and money from everyone else. Plus of course we had cake and whatnot. So... now I guess my birthday is officially over.
---
2019
Dave's Birthday index