Halloween 2023
September 1
I re-started watching American Horror Story: Coven on Hulu; I first started watching it in 2019 on Amazon, but only got through two or three episodes. Hopefully this time I'll get through the whole season, and finish it by Halloween. We'll see.
Sept. 2
I got some pumpkin spice Twinkies today. They're good.
Sept. 29
I watched The House with a Clock in Its Walls, which was a bit Halloweeny. There were jack-o-lanterns.
October 1
I watched a stop-motion horror short film called Foxed!, which is from 2013 but I just learned about it sometime last week. I held off on watching it until this month because it is horror, even though it's not really Halloweeny. It was good, though. I also watched some stuff on the YouTube channel Alter. And later I watched Silent Hill.
Oct. 2
Sometime in September I started a playthrough of Pokemon Black, with a Halloweenish theme. I called myself "Samhain", and my party includes a Swoobat named Nosferatu, a Galvantula named Arachne, an Emboar named Diablo, a Cofagrigus named Crypty, a Seismitoad named Lagoonie, and a Mandibuzz named VVitch. Anyway, today I beat the main part of the game. But there's still stuff I can do between now and Halloween. Later, I re-watched "Vampire Academy".
Oct. 3
I watched the first episode of a new animated series on Hulu called "Fright Krewe". (The season was released yesterday, but our internet was too slow for me to watch it then.) So far it's not bad, but I'll be disappointed if it doesn't get better as it progresses. Later, I watched Prey, which was kind of horror-y.
Oct. 4
I hung out with Matty and Jamie at the farm, and they had up some neat Halloween decorations.
Oct. 5
I watched No One Will Save You.
Oct. 6
I started a project on my website to move movie reviews from the "supernatural horror" portion of my "scary movie" reviews to a new supernatural horror section of my "supernatural & paranormal" reviews. It's kind of tedious and I expect it'll take awhile to complete. Then I may move some other categories of scary movies into other sections, too.
Oct. 7
I worked some more on the new supernatural horror section, then watched Underworld Evolution. Then I started working on a new section for monster movies. (I had actually set up the directory in 2019, but never did anything with it until now.)
Oct. 8
Didn't do a lot today because the internet was out most of the day. But in the evening I re-watched "Scooby-Doo and the Witch's Ghost".
Oct. 9
Continued working on the migration of movie reviews. At night I watched the 2019 remake of Pet Sematary.
Oct. 10
I finished moving reviews to both "monster movies" and "supernatural horror". And I watched Split.
Oct. 12
Yesterday I bought some glazed pumpkin doughnuts, which I tried last night and they're good. I also bought an energy drink called Witch's Brew, from Alani Nu, which is caramel apple flavored, and I tried it today. It's also pretty good.
Oct. 13
Today is Friday the 13th, so I really wanted to watch a scary movie, but I'm just too tired. The night before last, my ankle and foot started hurting really badly all of a sudden, and that continued all day yesterday. I figured it might be gout, so I didn't drink last night. And I didn't get much sleep, like maybe 2 hours from around 1am to around 3am. Stayed awake the rest of the night, sometimes trying to sleep and sometimes playing my current game of Pokemon LeafGreen. Then today Beth took me to the ER, where it was confirmed that I have gout. Today is also the premiere of a new 'Goosebumps" series on both Hulu and Disney+, which I really want to check out, but our internet is too slow tonight. Anyway, it's only about 9:30 now, and I'm already thinking I should try to get to sleep.
Oct. 14
My foot has been feeling much better today. Not 100%, but close. Anyway, tonight I watched Creature from the Black Lagoon.
Oct. 15
My foot has been feeling worse than yesterday, today, but not nearly as bad as it was the two days before that. Um... I started watching the first episode of the new "Goosebumps", but after awhile the internet cut out. So I'll have to get back to that sometime. Meanwhile, I have watched this year's Halloween Special music video by Broken Peach, One Way Or Another. That was kinda fun. Later I watched Snow White: A Tale of Terror.
Oct. 16
I finished watching the first episode of "Goosebumps", and realized it's not going to be an anthology series, as I had assumed it would be. Later I watched The Dead Don't Die.
Oct. 17
I set up the section where reviews of Halloween CDs will go, whenever I get around to listening to them. Later, I watched the short film The Skeleton Dance on Disney+, and that led to me doing some major edits on my review of Disney Halloween specials.
Oct. 18
I'm having a can of Pumpkin Party ale from Lone Pine Brewing. I actually had half a can of the stuff last night when I visited Matty and Jamie, and Jamie said she doesn't like it because it tastes funky. I thought "Halloween is funky". And now I'm thinking of this beer as "funky punkin". I like it. Also today we got Starlink internet, which is way faster than our old internet, but so far it cuts out a lot, even if it's usually back within a few seconds (though sometimes it's longer), that's still a problem. I tried watching a movie on Hulu, and I just got tired of it stopping every few minutes. So I listened to Spooktakular Party Songs instead.
Oct. 19
I watched the third episode of "Fright Krewe" and so far I have mixed feelings about the series. I'm not sure I like it enough to watch all ten episodes. Also tonight I watched James and the Giant Peach on Disney+. It's not really Halloweeny or even particularly scary, but I've often seen it listed in Disney Movie Club's Halloween suggested titles. Whether that's because the giant peach maybe vaguely resembles a pumpkin, or that the movie has a dark tone to it, or Disney just grasps at straws to sell products, I don't know and don't particularly care. It's also part of Disney+'s Halloween collection. So whatever, I'm mentioning it here. Also today I bought a box of chardonnay, because I wanted something other than beer to drink. Partly that was because of my recent bout of gout. And I wanted it to be white wine, because red wine was on the list the hospital gave me of things that are bad for gout. And the store I was in only had chardonnay for a white wine (in a box). But it amused me because it reminded me of one of the zombies in "The Dead Don't Die".
Oct. 20
This morning I had my first bowl of It's the Great Pumpkin Charlie Brown cereal. It was alright. I could easily get tired of it before I finish the box, but the most important thing about it was just being able to say I'd tried it. I added a music video called Halloween to my Halloween videos playlist. Later I watched one of the short films from season 2 of Launchpad, called "The Ghost". It wasn't all that scary, but I do think it's appropriate for this time of year. Later still, I watched The Hollow Child.
Oct. 21
I think it was probably last October (but maybe not) that I watched an episode of "Phineas & Ferb" from season 4 which was Halloweenish in nature, but not set on Halloween. So at the time, I didn't add it to my Halloween episodes page, but this year I rewatched the episode (because for some reason Disney+ wasn't showing it as having been watched) and I did add it to my Halloween episodes. The next episode is actually set on Halloween, and I expect I'll watch it next week. Can't believe how far behind I've fallen in catching up on old P&F episodes I didn't get to see when they first aired, but hopefully I'll get back into watching the show more regularly on Disney+. Later, I finished up a movie I tried and failed to watch a few days ago, Only Lovers Left Alive. It's not horror, but it is about vampires.
Oct. 22
I watched The Ghosts of Buxley Hall. It wasn't remotely scary, it was more of a comedy. But it did have ghosts in it.
Oct. 23
I watched an episode of SciShow Kids about the making of candy corn. Later, I watched Totally Killer on Amazon, and it was totally awesome.
Oct. 24
I watched the first part of the miniseries "Rose Red" on Hulu. I thought it was fairly boring, but maybe part two will be better. Then I watched episode 4 of "AHS: Coven", which was set on Halloween, so I added it to my Halloween episodes page. (I'm afraid I've fallen behind on watching this series, so now I think it's safe to say I won't finish the season by Halloween. Which is fine.)
Oct. 25
I started watching They Live Inside Us, which I've been meaning to watch each Halloween since 2020, but I didn't get far into it before I decided I wasn't interested in it after all. Then I watched part two of "Rose Red", which I guess was slightly more interesting than part one, so I suppose I'll watch part three sometime soon. But it's still fairly "meh".
Oct. 26
Went over to visit Matty and Jamie. Showed them my fiber optic Jack-o-Lantern. We watched the original "Scream", and then the first episode of season 3 of American Horror Stories.
Oct. 27
I watched Tales of Halloween on Amazon, since my free month of Prime will be ending soon. I wasn't super impressed by the movie, but it was alright.
Oct. 28
I watched Phineas & Ferb's season 4 Halloween episode, "Druselsteinoween". Later I watched Scooby-Doo and the Cyber Chase. Then a Halloween-themed episode of React.
Oct. 29
I listened to the album Monsters, Ghouls, Goblins & Demons. And I finished watching Rose Red. Later, after a lot of wasted time with executive dysfunction, I watched some things on Disney+, including the penultimate episode of season 2 of "Girl Meets World". There were several flashbacks, and the first one was set on Halloween. I wasn't expecting that, but I enjoyed it.
Oct. 30
I carved a Jack-o-Lantern. Tried to make it look like the Pokemon move "Scary Face" Then I watched Scooby-Doo! and the Legend of the Vampire, just because it was free on Amazon for a limited time. Then I watched Haunt on Hulu.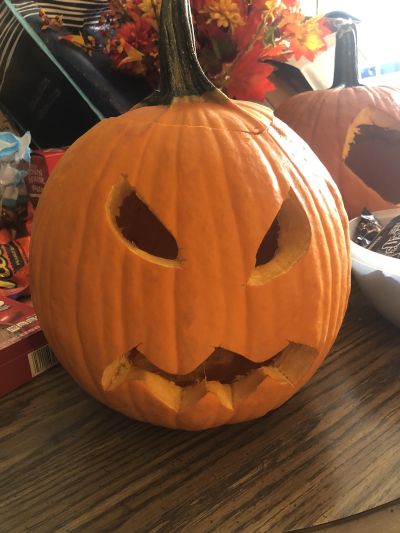 Oct. 31
I wore my skeletons shirt today. I had some Great Pumpkin cereal for breakfast. I played a bit of my spooky-themed game of Pokemon Black. And... procrastinated for quite a few hours before managing to watch Dracula. Then I started drinking some Haunted House hoppy dark ale, from Allagash. I like it. Also eating some darn tasty Snickers popcorn. I watched this year's ArieScope short film, Halloween Socks. And I added a comic to my Halloween comics page, this one being a play on the Great Pumpkin TV special. Then I had a Pumpkin Party beer and spent like three hours sitting up, trying to make myself watch "Fright Night", but my executive dysfunction wouldn't let me. Finally I gave up the ghost and went to sleep.
November 1
Tonight I watched The Crow for Day of the Dead. I probably should have watched it on Devil's Night, but whatevs. It was good.
Nov. 10
I finally got around to watching this year's Treehouse of Horror, which aired five days ago. It was nothing special. Then I finally watched Fright Night.
---
ekt's Halloween page