Halloween 2020
April 17
A couple nights ago I watched the first six shorts in an online anthology of short films called Halloween Night, from 2013. Tonight I watched the final three shorts in the series.
October 2
Disney+ has released their Halloween collection of movies, TV episodes, etc. Including all the Treehouse of Horror episodes of The Simpsons. Tonight I watched the very first one, from 1990, which I hadn't seen in many years, and finally wrote a review of it. I hope to do the same with all the rest I haven't reviewed yet, throughout this month.
October 3
I watched Treehouse of Horror II, which I can't really recall whether or not I'd ever seen before.
Oct. 4
I watched Treehouse of Horror III. Which inspired me to then watch A Clockwork Orange.
Oct. 5
I watched Treehouse of Horror IV. And I watched the 1996 TV movie Sabrina the Teenage Witch. (Hey it's got witches, and not all Halloween stuff has to be horror. Not that this has anything to do with Halloween, but still.)
Oct. 6
I watched Treehouse of Horror V.
Oct. 7
I watched Treehouse of Horror VI. And I watched a Halloween episode of "Even Stevens" from 2001, which I have no idea if I had seen before or not, but it was decent. Then I added it to my Halloween episodes page. And I watched Treehouse VII.
Oct. 8
I watched Treehouse of Horror VIII.
Oct. 9
Alas, my internet has been too slow to watch Treehouse of Horror, but I did watch a DVD: Stage Fright.
Oct. 10
Watched Treehouse of Horror IX. And I started watching a short film anthology on Hulu called Bite Size Halloween. I'm late getting started because I just discovered it yesterday, but soon enough I'll be caught up and have to wait for more episodes to be released. And I watched Scooby Doo on Zombie Island.
Oct. 13
Watched Treehouse of Horror X and XI.
Oct. 15
Watched Treehouse of Horror XII and 13. Also The Night Strangler.
Oct. 16
Watched Treehouse of Horror XIV. Added a few links to my Halloween links page, which were suggested by someone via email. Added "Halloween House Party" to my Halloween videos playlist.
Oct. 19
I Watched Treehouse of Horror XV. On a side note, last night was when this year's Treehouse was originally scheduled for, but it was postponed because of sports or whatever. Which is just as well, because I was feeling ill and wouldn't have wanted to stay up to watch it.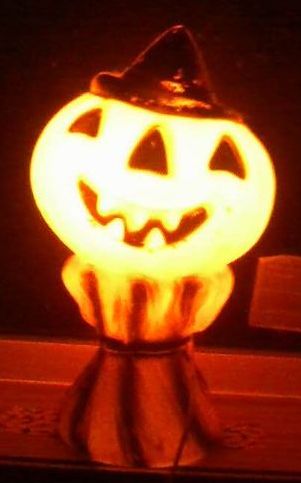 Oct. 20
I watched Treehouse of Horror XVI.
Oct. 23
I watched Treehouse of Horror XVII. Also I finished a story I've been working on, which I intend to release a week from now. (It's possible within the next seven days I'll do some editing of the story, but maybe not.) Also I watched A Nightmare on Elm Street 3.
Oct. 24
I watched The Legend of Hallowaiian.
Oct. 25
Watched Treehouse of Horror XVIII. And E.T., which of course happens on and around Halloween.
Oct. 26
Watched Treehouse of Horror XIX. I also put a light-up pumpkin decoration in my window, something we had when I was a kid, but it's been many years (dare I say decades) since anyone used it. I'm surprised the little light bulb still works. And I watched Slender Man.
Oct. 27
I watched Treehouse of Horror XX and XXI. Also the 2016 TV movie Mother, May I Sleep with Danger?
Oct. 28
Watched ZOMBIES 2. And Treehouse of Horror XXII. And Scream 4.
Oct. 29
Watched Treehouse of Horror XXIII. Later watched Treehouse XXIV, which was the last one prior to my starting to do regular reviews in 2014. Still, I should re-watch all the rest of the Treehouse eps sooner or later, so I can edit and rate my reviews.
Oct. 30
A couple years ago, I had a vague idea for a story that I wanted to write and post online by Halloween, but I never got around to it. And I didn't get to it last year, either. But this year I finally did, even if the story went in a somewhat different direction than I originally envisioned. What I ended up writing is much simpler than my original idea, I think. But at least it's been written. I finished it about a week ago, and waited until today (just a little after midnight, so it would be the first thing I did today) to post a link on facebook. It's called 1984 of the Worlds.
Later in the day, I watched Treehouse of Horror XXV and XXVI. And The Midnight Hour. Then I watched Count Spookula's Horrorthon, just because it was there. I don't even like Count Spookula, but Witching Season Films keeps occasionally making new stuff with this guy, and I watch it. Just because. It's so bad. Then I listend to my Halloween playlist on Spotify til I felt ready for sleep.
Oct. 31
I watched Batman Unlimited: Monster Mayhem. It started on Halloween, but most of it was set after that. But it was still a pretty decent movie, even if the "monsters" were really just some familiar villains. Later in the day I watched Bride of Frankenstein, and Treehouse of Horror XXVII. Then The Omen.
Nov. 1
Watched Treehouse of Horror XXVIII, and Return to Halloweentown. Later I watched this year's Treehouse of Horror XXXI and Halloween episodes of "Bless the Harts" and "Bob's Burgers".
---
2021
ekt's Halloween page