Halloween 2016
February 12
Made a YouTube playlist called "Everyday Monsters," which I added to my Halloween commercials page.
June 16
For the past few years or so, the city of Caribou, ME, has this thing in the summers called Thursdays on Sweden, which I guess they do every other Thursday. There are vendors and foodsellers and live music, and sometimes themes for a particular week, like "Dress like a pirate day" or whatever. (They didn't do that one this year, but I remember it from one year.) Anyway, this year one of those themes was "Halloween in June." So my sister and I went to that and walked around for a bit. I had a pumpkiny dessert of some kind. And I dressed in a monk costume I'd gotten for Halloween one year when I lived in Bangor. And that's about all there is to say about that.
Summer
Last summer, I decided to watch a bunch of westerns. This summer I've decided to watch a bunch of scary or supernatural movies, which is something I usually reserve primarily for October. So I thought I'd list anything like that that I watch this season. And I did, for awhile, but then I decided to delete that list, because really, it's not about Halloween. I really should limit myself to listing what I watch in October.
July 12/13
I had a dream that was set on Halloween, at some college campus. In the dream, there was this annual event at the school that involved a staged werewolf attack, or something. And I had apparently been at the event at least one previous year, so I basically knew what was coming. (Although there would be different things going on every year, and this year, at one point there was this sort of cloud of brown smoke that turned into like wizards or something, all wearing brown cassocks or whatever. It was kind of awesome. And I think they were accompanied by people dressed as the Suicide Squad, from the currently upcoming movie.) And... I dunno. I spent a lot of the dream roaming around the campus for whatever reason. Sometime later I was looking for a jacket I had lost, but also I spent some time looking for books to buy. It was all pretty random.
July 20: Started watching the first season of American Horror Story on DVD.
August 2: Watched the second episode of a two-part Halloween story in "American Horror Story," and added an entry for it on my Halloween episodes page.
September 14
I reckon there are a number of things I've failed to mention of the past month or so, most of which are more fall-related than Halloween-related, but still. Um... one day I bought a bag of pumpkin spice flavored chocolate cups at the dollar store, but they were sitting in the hot car for awhile, and by the time I opened the bag, they were melted. Still, when I got home I put them in the freezer, and every so often I'll have one. Unwrapping them is a pain, but they still taste good. Also several weeks ago I finished watching season one of AHS. And I've continued watching scary-ish movies for my summer of horror, which I concluded last night. Still not saying what any of those movies were. But anyway, it will soon be October, and then I'll start mentioning things I watch, here. Um... also awhile ago my sister bought me some pumpkin spice oatmeal, which I haven't tried yet, and a roll of duct tape with pictures of candy corn on it. I have no idea what I'd do with such a thing, but whatever. A bit more recently, she bought some pumpkin spice Cheerios, which I have tried, and they're fairly good. Also earlier this month I started a game of Pokemon Black with the plan of catching mostly ghosts, with a few other Halloweenish things like a bat and a spider. (I called myself "Moar," as in "Moar Ghosts 'n' Stuff.") I really wanted to wait until October to start it, but I couldn't help myself. I'll try to slow down, now that I've made my way to the Elite Four. There's plenty to do after beating them, but still, I should hold off until closer to Halloween. Anyway, my party includes a Swoobat named Drusilla, a Galvantula named Buzz, a Golurk named Shlomo, a Jellicent named Pentagramp, and a Yamask that I originally named... well, actually I think I might have given it a name that I've forgotten now, but then renamed it Nefertiti before putting it in storage for awhile. But I took it out today and renamed it Suhet (after considering renaming it Ankh). And the party includes a Scrafty, which I had named Levi when it was still a Scraggy, but I have now changed its name to Samhain. Some pokemon that previously spent time in my party include a Serperior named Naga, an Audino named Stitch, a Liepard named Jet (after my cat), a Simipour named Gift, a Cryoganal named Entity, and most recently a Lampent named Bricriu. Most of those I don't mind excluding from my final party, but I really do think it's a shame I can't include Entity or Bricriu. Still, one can only have six at a time, and I'm not willing to give up any of the ones I'm using now. Other than that, I can't think of anything else I wanted to mention. Although I have recently acquired some DVDs to watch next month. But I'll say more about that when I actually watch them. ...Oh yeah, also Republic of Tea sent me a free packet of pumpkin spice tea with their latest catalog. I reckon I'll save that for Halloween.
September 24
Today I bought some caramel apple flavored soft caramels from Werther's. I tried one, and it was good, but I'll try to save most of them for closer to Halloween. Also I reckon a couple of the used DVDs I bought today could be included in my month-long Halloween viewing, next month.
September 27
I was surprised to see all three Monster Cereals in my local supermarket today. I bought BooBerry, but I'll wait til closer to Halloween to start eating it.
September 29
Went to Spirit Halloween; I don't think it's ever been in Presque Isle before, though I've been to the store in other cities, in years past. Anyway, there's tons of cool stuff, much of which is well beyond my price range. But even some of the cool things I could afford, I didn't get. (I would kind of like to go back sometime and reconsider buying some things I liked.) All I bought today was a tin of sugar skulls candy. (Shame I couldn't get real sugar skulls, but hardly surprising.) This is a pic I took from Boston America's website. Only two of the colors were at Spirit Halloween when I went, and I chose the white one. Oh, I also donated a couple bucks to Spirit of Children, and got a rubber bracelet.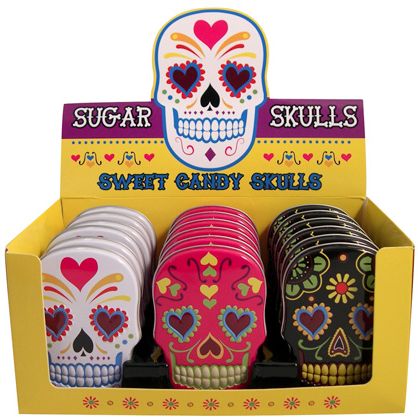 October 3
I just saw September 30's episode of "Anime Gateways," a webseries that recommends specific animes for a different genre each week. This episode was Anime for Horror Fans, which I thought was worth mentioning here.
October 6
My aunt Kathleen shared a link on facebook, to a blog post called 31 Days Of Feminist Horror Films: So, You're a Woman Who Loves Horror Films. I thought it was a good read (after all, I may not be a woman, but I am a feminist). Part of it is an introduction written this year, which is the second year the writer (Kate Hagen) is doing this list, and part of it is the introduction written last year. Anyway, after reading that, I looked through the list of movies and some of the individual reviews, and added links to those reviews on a couple of movies I've already seen and reviewed, as well as several I already had on my "want to watch" lists. I may add a few movies to my to-watch list, though a lot of the movies on the list remain of no interest to me (mostly because I'm not really into graphic gore or sex). Anyway... I expect I'll continue reading the list as more entries are added throughout this month. (Though this year it's actually two movies per day.)
October 11
Tonight is the premiere of "Channel Zero" on Syfy, but I can't watch it because I don't currently get that channel. However, the first season is based on a 2009 creepypasta called Candle Cove, which I just read, and it is kind of creepy. Especially the end. So that was fun.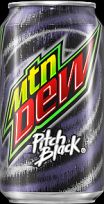 October 13
Bought me a 12-pack of Mtn Dew Pitch Black. This is kind of exciting, because it's been a long time since this stuff has been available. I mean, it debuted in 2004 as a limited edition flavor for Halloween. (Back in those days, we spelled the whole word "Mountain.") It was followed in 2005 by "Pitch Black II," a slightly different limited edition Halloween flavor. After that... it was pretty much gone. Earlier this year, I had a can of something called Black Label, which reminded me of Pitch Black. Later, there was a "DEWcision" competition between Pitch Black and Baja Blast. I didn't try either flavor, though I felt bad about not trying the latter. I meant to, but somehow didn't get around to it, and then it was just gone. Because Pitch Black won. So now it's a permanent flavor. I waited until now to buy some because I wanted to be sure to have some left by Halloween. Even if it's no longer specifically a Halloween flavor... I'll never not think of it as such.
Also today, my sister picked the pumpkin she grew this year. You'll recall that I tried growing pumpkins last year, and only got one, and that one was useless. But Beth's... well, it's better than mine was. Still not very big, but bigger and more solid and prettier than mine. (She also managed to grow a couple of really small, not very orange ones. But she was still disappointed that more pumpkins didn't grow, considering she used a whole packet of seeds.)
October 15
Watched Van Helsing, which I guess is my first time this month watching a Halloweenish movie. I planned to start sooner than this. Oh well.
October 16
Started reading Frankenstein. Also, today was the Simpsons' Treehouse of Horror, but I didn't see it, nor did I manage to DVR it. So... maybe I'll manage to see it online sometime.
October 18
Tonight was the Halloween episode of "Brooklyn Nine-Nine," although really the only nod to the holiday was a brief appearance by a Jack-o-Lantern. It was still a hilarious episode. Also tonight was the Halloween episode of "Scream Queens."
October 19
Went to Spirit Halloween again, and this time I bought an Arkham Asylum inmate shirt that I had wanted to buy the last time I was there. Unfortunately, the largest size the shirt comes in is XL, and I wear 2XL, so... it's tight. But since I wasn't really planning on buttoning it up anyway, but rather wearing it open over a t-shirt, it's fine. Also I bought the movie Clown on DVD, and watched it tonight. While drinking some Evan Williams Kentucky Cider. Good stuff.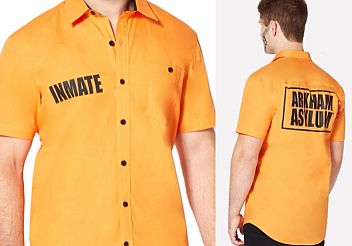 October 20
Watched The Rocky Horror Picture Show TV remake. That was fun. And after that I started drinking the Sam Adams "20 pounds of pumpkin" beer that I bought yesterday. Good stuff.
October 21
Watched the first episode on the Roseanne: Tricks & Treats DVD, which I've been meaning to do all month (so I could watch the eight episodes with a fair amount of space between them). But I kept putting it off or forgetting about it, so... now I'll have to watch an episode almost every day until Halloween. Which is fine. Could just as easily have been my plan from the start.
October 22
Watched Ghost Patrol on YouTube. (It aired a couple weeks ago on Disney Channel, but I don't get that network.)
October 23
Watched this year's Halloween episode of Bob's Burgers, in which Tina becomes a witch and uses a spell in the hopes of winning the school's costume contest... in which she dressed as a sandwitch (a witch between two slices of bread). Also, someone keeps stealing Bob's Jack-o-lanterns.
October 24
Watched the second Roseanne Halloween episode.
October 25
Started a new section of my book reviews for horror/supernatural books. Also, I've gotten back into the game of Pokemon Black that I started in early September, after having set it aside for awhile. Today my Yamask evolved into Cofagrigus. I'm trying this thing where it uses "curse" and then "rest," but so far it isn't working out as well as I'd hoped. Also, I caught a Heatmor that I named Freddy (as in Krueger), and for now I'm trying it out in place of my Scrafty. (Freddy is the only pokemon in my party that could learn "shadow claw," which I really wanted someone to learn.) And... I think that's all I have to say about Pokemon, for now. Later, I watched Shriek If You Know What I Did Last Friday the 13th.
October 26
I watched last night's Halloween episodes of "American Housewife", "Fresh off the Boat", and "The Real O'Neals". They were all pretty good. Added a couple of Walmart ads and a Target ad to my Halloween commercials playlist. And I watched tonight's Halloween episodes of "Speechless", "Modern Family", and "Black-ish". They were all alright, I guess.
October 27
Watched the third Roseanne Halloween episode. Also, earlier in the day, I bought stuff to drink over Halloween weekend. (Halloween itself will be om Monday; today is Thursday.) One thing I bought was a "make your own" six-pack of beers. A few of them were from Magic Hat. (I had seen a 12-pack they put out for Halloween earlier, but they were all gone by the time I was ready to buy drinks. Which was fine, because I wasn't really sure I wanted to get the 12-pack, anyway.) So... I got three different loose beers from that brand for my 6-pack, along with three other things. I expect to save all of them for Halloween. But I also bought a 3-liter box of wine, Bota Box's "RedVolution." I was going to hold off on drinking any of that until tomorrow night, when I plan to watch a movie, but... I started it tonight, because depression. Anyway, it's good.
October 28
I need to mention that Lycos was doing upgrades to all its sites starting today (Friday), and that included Angelfire (which hosts my website). It said it would take 1-2 days, but actually it was down for nearly five days. (It came back online on Tuesday, Nov. 1, sometime in the late afternoon or early evening.) So I spent four days, including Halloween itself, making notes in Wordpad, and I didn't get to put today's entry online until Tuesday. So that was kind of a drag; I wish they would have chosen some other time to do their upgrades. But whatevs. So... on Friday, I watched another of the Roseanne episodes. Then I watched Final Destination. And then I finally got around to watching Van Helsing: The London Assignment, which I had been meaning to do for at least a couple weeks. Oh, also I watched short film by Rocket Jump, called Harold.
October 29
Watched another Roseanne episode. Also watched Corpse Bride for the first time since 2006. (Rereading that journal entry, I see that I watched it on TV, which seems strange. I could have sworn I had the DVD and then decided to sell it, but if I watched it on TV, I must never have had the DVD at all. Until this year.) Anyway, I liked the movie more the second time around, and raised my rating. (The 2006 journal entry said I might move it to a higher tier if I ever saw it again. Man, it seems so long ago that I had my reviews on tiered pages instead of using smileys and whatnot. But apparently when I did switch the format, I changed the link on that page without changing anything I had said about the movie.)
October 30
Watched Something Wicked This Way Comes. And another Roseanne episode. And finally got to watch this year's Simpsons Treehouse of Horror on Fox's website.
October 31
Finished reading Frankenstein in the morning. Played a flash game on Google. Played some more of Pokemon Black. Today I caught a Vullaby and used that to replace my Swoobat. (I named Vullaby Regina, as in the Evil Queen from Once Upon a Time.) Also, I discovered that Golurk can learn Fly, what the what?! And I beat the Elite 4 for the first time in this playthrough of the game. Also today I watched a DVD of Claymation Comedy of Horrors, and another episode of Roseanne, and I've Been Waiting For You, and Dark Night of the Scarecrow, and Mary Shelley's Frankenstein. I drank my mixpack of Beck's Dark, Magic Hat Smash Hits IPA, Woodchuck Fall Harvest cider, Magic Hat Vamplifier hoppy red ale, Sierra Nevada Maple Scotch, and Magic Hat Wilhelm Scream pumpkin ale. (Most of those were during the last two movies, but I had the pumpkin ale left after they were over, so I drank that while listening to some songs on my "Halloween jams" playlist on Spotify.)
November 1
It's Tuesday. I watched last night's episode of Lucifer, which was set on Halloween. There was a zombie-themed wedding. And later, Maze took Trixie trick-or-treating. And Lucifer finally showed Linda his real face. But mostly the episode was about Lucifer trying to avoid dealing with the guilt he felt over killing Uriel in the previous episode. Also I watched the final Halloween episode on the Roseanne: Tricks & Treats DVD. And started updating my website, once it started working again.
November 2
Added entries here for Oct. 29-30. Also spent a good long time reorganizing my Treehouse of Horror reviews, putting each year's installment on a separate page.
November 6
Sunday. I've spent the past few days working on reviews of things I watched on Halloween, which I didn't finish until today. Once the last of the reviews was written, I added my entry for Monday to this page. Also I went through my temporary bookmarks and found a few links to add to my Halloween links page. And I watched a ridiculous SNL sketch called Haunted Elevator on YouTube. And now I guess the holiday is officially over for me.
---
2017
ekt's Halloween page