Halloween 2015
September 23
I should mention that sometime last week I got a box of pumpkin pie-flavor Pop-Tarts, which are fairly decent. (I expect they'll be gone by Halloween.) It was probably the same day that I got a DVD of "IT," which I meant to get last year but didn't. And today when I was in Walmart, I got a box of Count Chocula, which I'm kind of excited about since I haven't seen any monster cereals in stores around here for several years. (I spent probably a couple of minutes standing in front of the display, trying to decide which of the three cereals to get.) Also when I was in Walmart, I saw a Jabba the Hutt plush that I wanted to get, but didn't. (Maybe I will later, though.) And in K-mart, I got a DVD of "Witch's Night Out," which is something I wanted to get last year, but didn't. So it'll be fun to watch that sometime next month. (Probably on Halloween or the day before. The DVD also has some bonus cartoons that I'll probably watch like a week before Halloween.) Incidentally, I saw "IT" at both Walmart and K-mart today, and it would have been slightly cheaper at either place than it was where I got it last week. But that's fine, I still paid a reasonable price. Oh, and some time ago I was at Walmart looking at a DVD that has four Stephen King movies on it, the one I was mainly interested in being "Silver Bullet." Mom happened to see me and tell me I should let her know if I saw anything I wanted for my then-upcoming birthday. So I gave her the DVD to buy, which I received this past Sunday at my birthday party (the day before my birthday). Then yesterday (Tuesday, the day after my birthday), I received in the mail two DVDs I had ordered from Disney Movie Club. One is "Hocus Pocus," which I was thinking about getting last year and maybe the year before that. (It came with a free booklet of pumpkin-carving stencils, stickers, and craft ideas.) But the one that I'm most excited about is a 2-movie DVD of "Mr. Boogedy" and "Bride of Boogedy," a couple of TV movies from the 80s, which just recently became available as a DMC exclusive. (Of course, even before getting all these DVDs, I had a box full of movies to watch around Halloween, so I expect to get started as soon as October arrives, and watch a lot of stuff all through the month. In fact, I also plan to order even more Halloweenish DVDs from Amazon soon.) Anyway, I think that's all the news I have to report for now.
October 2
Went to Burger King today and tried their Halloween Whopper. It's got a black bun, which is reminiscent of the Kuro Burger that BK introduced in Japan last year, which I kind of wished I could try. (Although the Kuro Burger's bun doesn't have sesame seeds like the Halloween Whopper. And it's not a whopper, basically just a cheeseburger. And it has black cheese and sauce, whereas the bun is the only black part of the Halloween Whopper. Incidentally, I just discovered that Japanese McDonaldses also had their own black cheeseburger.) Anyway, while I don't expect I'll ever have a chance to try either Japanese black cheeseburger, that's probably a good thing. I don't doubt that the American version I had today was better than either of them. I will say the bun supposedly has A1 sauce baked into it, but I couldn't taste that at all. When I broke off a bit of the bun to try by itself, it just tasted vaguely burnt, to me... even though I'm pretty sure it wasn't. Of course, I could taste actual A1 on the burger itself, as it's one of the condiments. Otherwise, it's a regular Whopper, which is to say, pretty decent. Also I got a pumpkin spice Oreo milkshake, which was pretty good. But I'm glad I got a small one, because as much as I like pumpkin spice, it got kind of overwhelming before I finished it. Too sweet, I reckon. But good.
Later, I found a stack of my old coasters, including a Halloween coaster I had gotten at a pub in 1999. So I scanned it and put it at the bottom of my Halloween memories page.
October 4
Watched Mr. Boogedy. That was fun. And it officially begins my Halloween movie viewing. (I had kind of hoped to watch one movie every day in October, and a bunch on Halloween itself. But of course I never really believed that would happen. I'll try to do better than last year, though.)
October 5
I went to Walmart and got the Jabba Halloween plushie that I saw last time I was there. Yay. And elsewhere today, I picked up a bottle of Pinnacle caramel apple flavored vodka. And it... is... delicious.
October 9
I read the first of four stories in a book called Green Tea and Other Ghost Stories. Then I watched Nature of the Beast.
October 10
It's Saturday, and I finally managed to watch Tuesday's episode of Scream Queens. It's a quite Halloweenish series to begin with, but this episode was set at least partly on Halloween, and involved a haunted house. Next week's ep will also be set on Halloween, I guess. So I look forward to that, though I would prefer to just have one Halloween episode. And later tonight... well, I wasn't planning on watching a horror movie, but I did. I had a couple of other movies that I had previously been unable to watch because the discs were scratched, and I bought this lotion that's supposed to fix scratched discs, but the stuff turned out to be utterly useless. In fact it actually made one of the discs worse than it had been. So... I gave up the ghost on both of those movies, and threw them (and the scratch fixer) in the trash. Instead, I watched Vampires, which turned out to be a disappointment. But whatever, it's one less thing I need to watch, now.
October 11
Watched Bride of Boogedy.
October 14
Today my dad bought me a couple of things, probably from a thrift shop. One is a skull door knocker. The other is a Darth Vader mask that I can't really use while wearing glasses, and wouldn't be able to see anything without glasses. Besides which it's rather uncomfortable. And also I'm not generally big into used masks. So... I thought it would be funny to have my Jabba plush wear it. I could totally see Jabba the Hutt trick-or-treating as Darth Vader, couldn't you? Alas, there's not much chance of my getting a picture online to share here, as I hoped. I did recently get a new phone for my birthday, last month, and today I took a pic of Jabba wearing the mask. Then I discovered I can't send an email to myself from my phone or upload it to an album on my service provider's website, the way I used to do with my old phone. Sigh. But in happier news, tonight I watched last night's Halloween episode of "Scream Queens." It was fun, but not quite as Halloweeny as I had hoped. I mean, there were some Jack-o-lanterns at one point, but otherwise it was just like any other episode. A guy in a Red Devil costume killing people. Ho hum.
October 15
Watched part one of It.
October 16
Read the second story in "Green Tea and Other Ghost Stories." And I watched part two of "It."
October 17
So... this year I decided to try planting pumpkin seeds. I planted a few in one spot... probably in late May (possibly early June). I planted several more in another spot a week or two later. The ones I planted later never did much. Tiny plants with tiny leaves and flowers. No vines, certainly no pumpkins. The spot where I planted earlier, a plant grew up, and eventually there was a very long vine with big leaves and flowers. But I only got one pumpkin, and it never got very big... about nine inches tall and about five inches in diameter. Anyway, I finally had to pick it today, as we got our first snowfall. It hadn't been growing for at least a few weeks now, anyway, though it had started turning a bit yellow. There's still a lot of green, and it's not at all orange. Also it's a bit soft in some places, so... basically I am a failure as a pumpkin farmer, and I am very disappointed.
Also today, I watched Vampires: Los Muertos, which I actually liked a bit more than the first movie.
October 18
Watched a Halloween episode of "Bob's Burgers," which was pretty cool. But I was annoyed that FOX aired it at 9 instead of 7:30, when the show is usually on. Mainly this bugged me because I had planned to watch a DVD afterwards, but I ended up being too tired, because I am old. If Bob had just been on at 7:30, I could have started the DVD at 9 (after "Once Upon a Time"), which is already later than I really want to be starting a movie. 9:30 seemed doable, but... somehow an hour passed after the show ended, before I was ready to start, and 10:30 definitely wasn't doable. (Of course that doesn't stop me from lying awake for probably a couple hours before falling asleep, but it doesn't matter that I would have been awake long enough to watch the movie. What matters is I was too tired to focus.) Sigh. And the whole problem is, I wanted to watch a different Disney movie every Sunday night leading up to Halloween. And now I've missed a night, which basically means missing a whole week. I suppose I'll get to it sometime, but... I just hate things not going as planned. Sigh.
October 23
Read the third story in "Green Tea and Other Ghost Stories." Also I read my cousin's blog post, Should Christians Celebrate Halloween? (While I more or less agree with most of what he says, I don't agree absolutely. But his blog posts are always insightful.) And I watched Hansel & Gretel: Witch Hunters.
October 24
This morning, I opened the Count Chocula and had my first bowl of it for breakfast. I'll probably eat a lot of it in the coming week, but it probably won't be gone til sometime after Halloween. Also today I watched the bonus cartoon shorts from the DVD of "Witch's Night Out." (The actual special itself, I plan to watch on Halloween.) And I watched Vampires: The Turning.
October 25
Watched Hocus Pocus.
October 26
Watched a YouTube video, What is the Worst Halloween Candy? My cousin Luke is on the panel (I don't know the other four people). Also, I moved all my Halloween commercials onto a playlist, so as not to have them taking up so much space embedded separately on my page. And I added a new commercial, for Google app. Also, over the past two or three days, I've been trying to get my 2006 Halloween AMV, Bender Lugosi's Dead, uploaded somewhere on the internet. (I used to have it on a site that stopped existing a few years or so back.) And finally today I got it onto Vimeo, so that's nice. (Edit: on November 9, I found that it was deleted for copyright infringement. Sigh.)
I also moved a bunch of videos onto a playlist on my A/V page, to clean that page up. Plus I added some new videos to the list that I didn't previously have on my page, and I deleted my old pop-up mp3 player, while adding some of the songs that were on it to the Spotify playlist that I started last year. I also watched Supergirl, which isn't exactly a Halloween movie, but it did involve witchcraft (and at one point, one character referred to Supergirl's outfit as a "Halloween costume").
October 27
I watched last week's Halloween episode of "The Simpsons." It was the first time the show did a straightforward Halloween ep that wasn't part of "Treehouse of Horror" (though a Treehouse ep aired this week, and I'll watch it online next week). It was actually a really great ep (better than a lot of the Treehouse eps, even). I enjoyed the self-referential jokes about the Treehouse eps, as well as the plot, about Lisa getting too scared to celebrate Halloween, and... stuff. It was genuinely scary as well as really funny, and a really good Homer & Lisa episode. Plus it had a fun song about adults becoming metaphorical monsters late at night on Halloween (vaguely approximating the tune of "Time Warp"). Also today there was a decent Halloween episode of "Fresh Off the Boat."
October 28
Today I had my first appointment with a "clinician/LMSW-CC," which I guess is kind of like a therapist. So... I thought might be kind of scary, which would be appropriate for this week, but... it really wasn't. But I did do some other stuff today, like I bought pumpkin spice rolls from Little Debbie, and some beer to drink on Halloween (though I won't be drinking all of it in one night). Also bought some glow sticks to use on Halloween. Oh, and we got some pumpkins from a pumpkin seller. I didn't want one and I don't plan on carving one, but we have two of them, anyway. And there was a Halloween episode of "Blackish." I was intending to watch "Trick 'r Treat" after that, but ended up watching "South Park" and "Moonbeam City" instead. There was nothing Halloweeny about those shows, but I just didn't want to have to watch them later, because there's already too much stuff I have to watch "later."
October 29
"SciShow Kids" had an episode called 3 Fun Facts About Bats!, which I guess is kind of a Halloweenish subject. (Plus, Squeaks was dressed as a vampire.) Also there was a crossover between "Bones" (which I never watch) and "Sleepy Hollow." So I watched both shows tonight, and they were set around Halloween. And I was again thinking of watching "Trick 'r Treat" after Sleepy Hollow, and again I didn't, because I was just too tired. (I get tired way too easily, these days, just from the mere act of being awake, it seems.)
October 30
My cousin wrote another blog post about Halloween, How to Celebrate Halloween as an Act of Christian Discipleship. Also, the other day Geek & Sundry had an article about three horror short films (about 5 minutes each). I watched those today, but I didn't like any of them well enough to actually write reviews. They were okay, though. And I have now read the final story in Green Tea and other Ghost Stories. And I finally watched Trick 'r Treat.
October 31
So, a pretty crappy start to the day. Here's what happened: "Ash vs Evil Dead" premieres today, but it's on a channel I don't get. So of course I added it to my list of supernatural shows I want to see. And then I discovered that when I saved the page, most of the stuff that had previously been on the page got deleted. Which really annoyed me, but... I've dealt with it the best I could. And now I'm ready for the rest of the day to not suck. Well... the episode of Sailor Moon that I watched today was called "Dentist of Horrors? Palla-Palla's House." It wasn't Halloween, or anything, but Usagi and Chibi-Usa were terrified of going to the dentist, and I guess any kind of fear could be called Halloweenish. Sort of. Maybe? Also today I did actually carve one of the pumpkins, using a bat stencil, from the booklet I mentioned in the opening paragraph of this page. Later, I watched Hotel Transylvania with my sister. And I got a Halloween card with some cash in it from Mom. And Beth took some pics of my Jack-o-Lantern.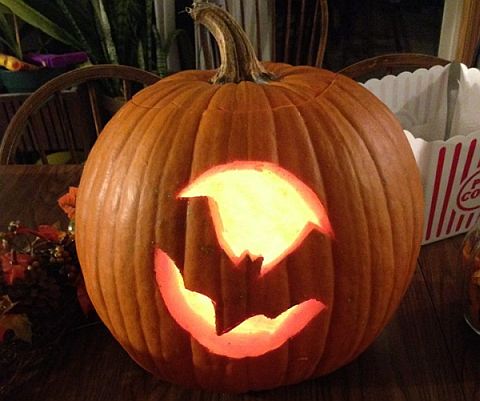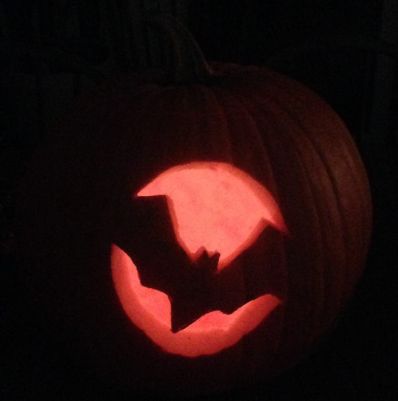 Later I watched Witch's Night Out. And I strung up my glow sticks. Then I watched The Watcher in the Woods. And the glow sticks are already getting dim. In my day, glow sticks would still be glowy the next morning. Kind of. But the ones I got were a different brand, I think. And they have two colors in each stick, which I'm not used to. But whatever, they were easily worth the dollar I paid for the four of them. Now it's time to start another movie, as well as to start drinking the beer I bought the other day. It's from Saranac, and the varieties in this mixpack include "Legacy IPA", Pumpkin Ale, Octoberfest, and "Dark-tober(fest)". They're all good. And I watched Silver Bullet. I kind of thought I'd watch another movie, but it's nearly 2am (or 1am, since daylight saving time ends tonight). But now I'm thinking probably I should go to sleep. But I'll listen to some songs on my Halloween playlist first. Anyway, I've had a good day. Mostly. (Oh shit, I just realized I missed the first 2am. So when it turned 2am, it really was 2am. Damn.)

November 1
Watched the short film Dia de los Muertos. Also today I read the sixth (and final) book of the graphic novel Brody's Ghost. (It came out in April, but I didn't get it until late September or early October.) I thought I'd read it sometime last week, but I just never got around to it. Anyway, it's not a Halloween story, but it involves a ghost (obviously), and a serial killer. So I reckon it's sort of Halloweenish. And it was a good conclusion to the series. Later I watched The Book of Life.

November 2
Watched this year's installment of Treehouse of Horror, which was okay. And this year's Halloween episode of "Brooklyn Nine-Nine," which was brilliant. (I totally called how it would end, though I guess it was predictable. And perfect.) Weird thing, some of the sites I looked at when adding links for the episode on Halloween eps page said it was called "Halloween, Part III," and some sites just called it "Halloween III." (Since the latter is what FOX.com said, that's what I assume is the official title.) Anyway... it was fun. Also today I watched the first two episodes of Over the Garden Wall. I wasn't expecting to mention that on this page, but some really creepy stuff happened in those episodes, one of which involved a wolf-beast, and the other one involved pumpkins... and skeletons. So, it was definitely Halloweenish. Anyway, it's a miniseries I'm watching on DVD, which I'll be watching throughout the week, though I doubt I'll mention it again here. (But we'll see.)

November 6
Okay, I watched the final two episodes of "Over the Garden Wall," and I need to mention that the penultimate episode is partly set on Halloween. And that's rather important.

November 8
I've been behind on My Little Pony: Friendship Is Magic for some time now. Eps have been accumulating on the DVR. Today I watched one from the week before Halloween, which was a Hearthswarming Eve episode, which really shouldn't have aired until December. But the one that aired on Halloween itself was a Nightmare Night episode. (Both those holidays, which are substitutes for Christmas and Halloween, were first introduced in season 2, and made their second appearances this year, in season 5.) Anyway, it was a lot of fun. But seriously... I hope I'm done with Halloween, now.
---
2016
ekt's Halloween page