Oct. 31
Well, I'm writing this entry on Saturday, Nov. 1, actually. Didn't have a chance to get online yesterday. Went out in the morning. Um, first to the bank, I guess, to cash a check I got in a card from Grandma that came Thursday. Then to the mall. Got volume 5 of Bizenghast, a manga I started reading probably a couple years ago, but it was just last weekend that I got around to starting a review. I covered the first three volumes. Read volume 4 sometime this week, and started reading 5 yesterday, but haven't updated the review yet. Also last weekend started a gallery for the manga, scanning volume 1. I had hoped by Halloween I'd scan more volumes, but I just never found the time.
What else? Um, I suppose I looked in a few stores in the mall. I think one of them, probably Spirit Halloween, had signs up with a web address, tenthirtyone.com, which I checked today and it has nothing to do with Halloween. So maybe I wrote the addy down wrong, or maybe the signs were just wrong, or maybe the whole thing was some kind of hallucination. I dunno. Anyway, from the mall I walked to Starbucks, where I got a pumpkin & cream cheese muffin and caramel apple spice drink. Some years ago I remember getting caramel apple cider at a different Starbucks, and I loved it. This wasn't that, but it was still quite good. And... walked to some other stores, got a couple things at Target, including a bottle of Mountain Dew with this design on it.
Well, eventually I got back downtown, went to the groceria, where I I got a bag of herbal popcorn and a 4-pack of Imperial Pumpkin Ale made by Weyerbacher. Those two things cost near $14, which is all I had on me. I hate when stores don't put prices on things. Especially since the $4 I was planning on using to get bus tickets on Monday. Man, expensive stuff, but it was good. Anyway, as I was checking out, I got a call from a coworker asking me to cover his shift. So I walked home, put things away, got things I'd need for work, and headed right back out. Since I was out of bus tickets and had no one dollar bills, I was gonna use my two dollar bill and a couple Susan B. Anthony dollars, which I didn't wanna do... and just as I opened the apartment building's door to leave, the postman came in. So I took the mail inside. There was a card from Mom with a check, so I went to the bank again and cashed it, getting some ones so I could save the other currency. That was nice. But seriously, I had been looking forward to not working. So that kind of sucked.
But eventually I got through it, and had a glass of "black & orange," which is Pumpkinhead Ale and Guinness. I took a picture with my cell, though I was about half finished before I thought to do so, alas. Not that you care, but whatevs. The black floats on top of the orange. It's neat. And it tasted good. Then came home, had my herbal popcorn and 3 bottles of the Imperial Pumpkin Ale (that stuff is 8%, btw), and watched a DVD of the original Japanese version of "Pulse." I can't even write a review because it didn't make any sense to me at all. I was worried reading subtitles might distract from the horror, but I don't think it did. The only thing that detracted from the horror was... you know, having no idea what was going on. I'd still like to see the American remake someday, though.
Urm, and then I went to bed. And today I have strained eyes and a bit of a headache and I'm behind on all sorts of things I wanted to do, and I'm not sure how much I feel like doing anything, but I don't want to fall further behind. Am I forgetting anything? Oh, got some new coffee this week, which I tried yesterday morning. "Enchanted Evening," from Melitta. It's not bad. Probably other things I wanted to say, but I'll shut up for now. Of course, the holiday isn't over at least until after seeing Treehouse of Horror tomorrow night....
Oh, right. Thursday was the real Halloween episode of Supernatural. Some witches wanted to raise an ancient demon called Samhain. Which annoyed me, since there was no such demon and they also mispronounced the word, but... otherwise it was a decent episode, I guess.
Nov. 4

It is... 12:58am, technically Tuesday, but for me it's still Monday night. I need to make updates. I know I meant to say Sunday after work I watched Simpsons Treehouse of Horror. There was a Transformers spoof, a thing about dead celebrities which was probably most notable for the opening spoof of the "Mad Men" opening. Urm, and then the main event of the evening, the "Grand Pumpkin." Not bad, Charlie Brown spoof. I liked that the Grand Pumpkin got upset about people carving pumpkins. And then Tom Turkey... yeah.

Urm. Oh and Thursday night's Subterranean (which I watched on Sunday morning I think) had some vaguely Halloweenish videos maybe. Maybe. Anyway I'm probably forgetting things I wanted to say in the few days that I've continued to neglect this and I still never carved the damn pumpkin and every day I say, Maybe today. Sort of. I dunno. Yet there it sits.... Feh. It's so late now. So very, very late.... I hate life.

Nov. 5

One thing I had wanted to do for Halloween was maybe get some green apple soda. Never managed to do that, but today I got some. Also read a Halloween "Full Frontal Nerdity" comic today, so I added that to the AV page.

Nov. 6

Well, had some of the green apple soda today. Also, read the November issue of Dark Horse Presents, which included four particularly Halloweenish stories (one of which was Emily the Strange). And I finally got around to carving the pumpkin. As I believe I've said, I was planning on trying to make it look like Future Peter Petrelli from "Heroes." Using a picture from EW, here is the result... uncanny, no?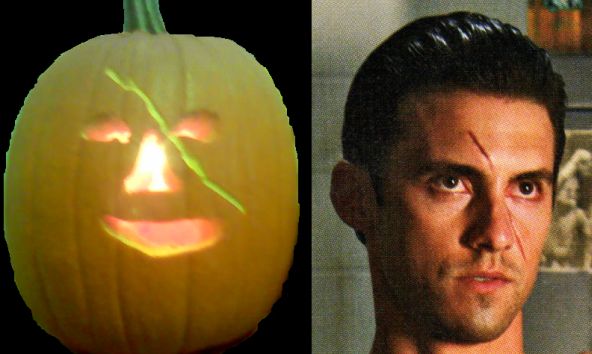 ---
2009
ekt's Halloween page