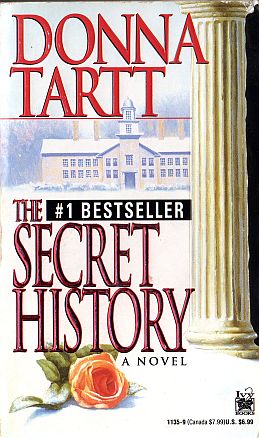 tek's rating:

The Secret History, by Donna Tartt (pub. 1992)
Amazon; B&N; Goodreads; Penguin Random House; TV Tropes; Wikipedia
Not really a murder mystery, because we're told at the very beginning who killed whom. The victim is Edmund "Bunny" Corcoran. His killer is Henry Winter, along with accomplices Francis Abernathy, Charles and Camilla Macaulay, and the newest member of the group, Richard Papen. Richard narrates the book, at the age of 28. He begins with a brief description of the murder, and then jumps back to briefly describe his childhood in Plano, California.
The story truly begins shortly thereafter, with his enrollment at Hampden College, in Vermont, at age 19. He soon falls in with a group of Classics scholars, studying Greek, under the tutelage of Professor Julian Morrow, whom they all revere. The first half of the book involves Richard getting to know Henry, Bunny, Francis, and twins Charles and Camilla; and leads to the murder described at the beginning. The second half of the book concerns the aftermath of the murder.
It's a very interesting character study, I suppose. Richard reminds me in many ways of myself, except for a few things. As for the other characters, I can't say I've ever known anyone quite like them, but I nevertheless believed in all of them. Sigh. I'm afraid I can't think of much else to say. Just that it's all very interesting. Which I suppose is all I really should say, because the point of the book, basically, is just getting to know all the characters, along with Richard (while he also gets to know himself a bit better). To describe anything in detail here really would detract from the experience of actually reading it, yourself.
---
crime fiction index
(Image is a scan of my own copy.)